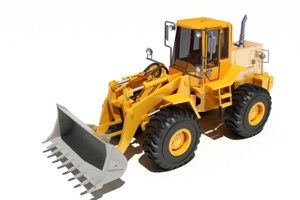 Have you ever arrived at one of your construction sites eager to start the day only to find that a piece of heavy equipment is missing, and a $250,000 lump is forming in your throat?
Theft of building materials, tools, or heavy equipment can set a project back and cost you thousands of dollars, not to mention raising your commercial vehicle insurance rates.
But it isn't just about the cost of replacing the stolen equipment; it's also the associated costs of theft such as lost productivity, rental fees, project overrun penalties, and higher insurance premiums.
Construction Equipment Theft Trends
Insurance Services Office, Inc. (ISO) reports indicate that theft accounts for more than fifty percent of heavy equipment loss and is increasing up to 20 percent each year. Experts estimate that losses (including associated costs) from construction site theft is $1 billion or more each year.
How To Protect Your Construction Site From Theft
While those statistics are frightening, there are steps you can take to make your site less attractive to would-be thieves, to make it more difficult for them, and to help reduce theft on your job sites:
Develop and enforce a theft prevention policy
First, you need to assess the job site. Some safety measures apply to any job site, while others are more site-specific. For example, some job sites – such highway projects that move every day - are more difficult to secure than others. All of your managers, employees, and subcontractors should be aware of the consequences of theft and specifically your prevention policy.
Secure your job site
For some job sites, fencing is your first line of defense. Ideally, fences should be made of a see-through material (so thieves are visible from the outside), at least eight feet high, with barbed wire or razor tape at the top. Since gates tend to be the most vulnerable part of fencing, have only one entrance whenever possible and use high-security padlock that uses a key rather than a combination, which is easily shared with thieves. Keep track of who is assigned a key and where those keys are at all times. Post "Warning: No Trespassing" signs along the perimeter of your worksite. Lighting – which is low-cost, flexible, and can be used with other security devices – around the perimeter directed at the job site is also a key deterrent.
Secure your equipment
Lock up all tools and building materials in storage boxes and cargo trailers with tamper-resistant locks and chains. Securing heavy equipment can be as simple as removing batteries or lowering blades and buckets. You can also add additional security measures such as locks that immobilize controls or keep the wheels from moving, alarms, and fuel and ignition cut-off switches.
Unlikely to Recover Stolen Equipment
Even with all these measures, determined thieves sometimes find a way especially when you have no choice but to store your equipment in an unprotected and remote location. According to the International Risk Management Institute (IRMI), as little as 10 to 15 percent of equipment stolen from work sites is ever recovered. Again, that statistic is frightening, but there are steps you can take to improve the chances of recovering your property.
How to Improve Your Chances of Recovering Stolen Equipment
Keep detailed records of your equipment
Starting in 2000, equipment manufacturers began using a standard worldwide 17-digit product identification number (PIN) system. Engrave this number on all of your equipment so that police can easily identify it if it is recovered. Keep track of all equipment on the worksite including photos, make, model, and PINs.
Register your construction equipment
Register your equipment with a company like the National Equipment Register or the Heavy Equipment Registration to help law enforcement identify and recover your equipment.
Get Protected - Get the Right Insurance
The final theft protection available to you is the right insurance. Commercial general liability (CGL) insurance usually only covers your equipment in the event of damage, not theft. Builders risk insurance is designed to protect your equipment in the event of losses caused by theft and other perils that can occur, and inland marine insurance, also known as tools and equipment insurance, is designed to protect property in transit.
Contact Us for the Best Insurance to Protect Your Construction Equipment
American Insuring Group specializes in all types of commercial insurance and can help determine the best insurance to protect your equipment. Give us a call at (800)947-1270 or (610)775-3848 or contact us online. Our independent agents are free to shop the insurance market of competing providers, matching up your needs with their policies to find the best fit at the right price. Don't delay, call today to get protected and start saving!