Commercial Truck Insurance

Don't Overpay For Truck Insurance!
At American Insuring Group, we go beyond providing you with affordbable truck insurance. We carefully analyze the needs and risks associated with your business. We match you up with the best trucking insurance policy based on a careful analysis of many competing insurance companies. The result? You'll get the high quality commercial insurance coverage you need at a very affordable price.
Want to learn more about getting the best insurance at the best price? Then click below to contact us online or call us at (610) 775-3848 or (800) 947-1270 to speak with a trucking insurance specialist.
---
Why Proper Trucking Insurance is Your Key to Managing Risk
If your business owns and uses trucks, you probably already know that the risks are considerably higher for them than they are for your personal vehicles. Consider some of these statistics provided by the Federal Motor Carrier Safety Administration:
A truck crash with injuries costs almost $200,000 per crash
The average cost of a large truck crash involving a fatality is $3.6 million
The average cost of all large truck crashes is $91,000
Learn more about how truck insurance can help you manage risk in this brief video:
The above presentation contains images that were used under a Creative Commons License.
---
What is Trucker's Insurance? Here's a Quick Primer:
A trucker's insurance policy is a type of commercial auto policy intended to meet the requirements of the "for-hire" motor carrier industry, I.e., the trucking industry. Insurance coverages include auto liability, auto physical damage, and trailer interchange insurance. Additional insurance coverages are available as well, some of which are listed below.
Trailer Interchange Insurance
Truckers often haul trailers that belong to other truckers / motor carriers. Trailer interchane insurance is available under the trucker's or the motor carrier policy form that covers the insured's legal liability for damage to the trailers of others. Coverage is also available, by endorsement, under the business auto policy (BAP). Under a trailer interchange agreement the motor carrier in possession of the trailer is responsible for any damage to the trailer, even if the trailer is not attached to the tractor.
Cargo Insurance
Cargo insurance covers inland or ocean marine property in transit.
Motor Carrier Policy
While a truckers policy is designed for "for-hire" motor carriers, a motor carrier policy is a commercial insurance policy designed for all other types of motor carriers, whether private or for-hire, or a combination of both. Available motor carrier policy coverages include trailer interchange, auto liability, auto physical damage; other coverages are available by endorsement.
Transit Coverage
Transit coverage is inland marine coverage of the insured's property while it is in transit over land from location to location.
---
Truck Insurance Options to Consider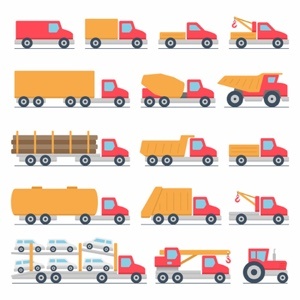 There are many types of commercial trucks, but here are the most common examples:
Semi trucks & big rigs (tractor-trailers and 18-wheelers)
Car haulers
Flatbed trucks
Tow trucks
Dump trucks
Garbage trucks
Tank trucks
Bobtail trucks
Light trucks
Long haul trucks
Cargo trucks
Each of these trucks has a different role, but they all require that you carefully consider the amount of insurance coverage you need to protect your business investment adequately.
The miles your trucks travel each year and what they haul will factor into the type and amount of coverage you need.
During the trucking insurance application process you will be faced with several coverage options. Some of the coverage is mandatory, and some you can adjust according to your needs. While the details may differ among insurance carriers, there are coverage types which are fairly typical:
Collision

insures against damages to your truck and other vehicles in a collision-type accident.



Comprehensive

insurance covers damages or losses that are not the result of a collision—vandalism, theft, fire, etc.



Liability

protects you against loss from legal liability resulting from bodily injury or property damage to another party.



Cargo insurance

protects against loss from legal liability for damage to goods or merchandise in your care and custody while in transit. It also provides coverage for things like debris removal and refrigeration breakdown.



Non-trucking coverage

is for those things that are not directly related to the trucking operation. This coverage would include an occupational accident for the truckers and insurance for trucks that drive without cargo (i.e., the cargo has been delivered, and the truck is coming back empty).
This list is not all-inclusive. You may be offered specialty coverage or insurance that covers passengers in any of your commercial trucks. It's best to think about these choices before you begin the process.
---
Trucking Insurance Deductibles and Premiums
In addition to coverage types, you must consider the deductible amount that you are willing to pay. As with personal vehicles, you must pay the deductible for commercial truck insurance before your insurance provider pays your claim, so it's important that you are comfortable paying a higher deductible.
Of course, a higher deductible translates into a lower premium. Conversely, lowering your deductible will increase your premium payment. You need to choose the best option by considering the risk factors for your business. Your company's experiences and safety factors must also be included in your decision. Make sure you have considered all your options before choosing a deductible option for your truck insurance, especially if you own a fleet of commercial trucks.

---
We Can Help You Choose the Right Truck Insurance!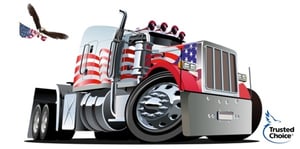 While most policies may look alike on the surface, the companies from which you buy them are not alike. Here's what to look for:
An experienced carrier that knows the trucking industry
An insurer with adequate reserves to pay claims
An independent insurance agent who can explain your coverage clearly (don't buy what you don't understand)
A carrier who is providing optimal coverage at a fair price
When you're buying trucking insurance, you must take into account the entire package. The insurance can be expensive, but it's worth it if you have adequately protected your investments.
Click below to contact us online, or call us at (800) 947-1270 or (610) 775-3848 to get started!
---

Commercial Truck and Auto Insurance Tips for Your Business