Many PA Homeowners Caught Without Flood Insurance Protection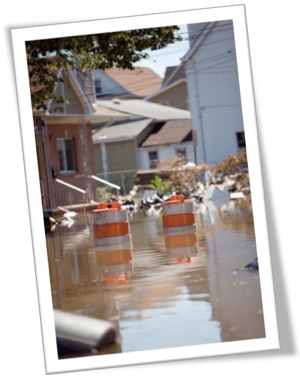 Many homeowners throughout Berks County, Lancaster County, and elsewhere in Pennsylvania experienced surprising homeowners insurance claims in 2011 due to flooding. Sadly, many lacked proper flood insurance resulting in denied claims and financial hardships that could have easily been avoided. From Reading PA to Allentown, from Lancaster to Erie, and Philadelphia to Pittsburgh, homeowners were caught uninsured, underinsured, and unprotected against flooding.
Over-the-ground flooding can cause severe property damage and often presents unique challenges to homeowners as they attempt to restore their homes and property, with or without the benefit of flood insurance coverage on their homeowner's policy.
Flood Plains and Homeowners Flood Insurance – Don't Be Fooled
As many Pennsylvania homeowners came to realize in 2011, flooding can occur outside of so-called flood plains, so acquiring flood insurance even if you are outside a flood plain can be the difference between financial protection and financial disaster when a surprise flood occurs. Hurricanes, tropical storms, and even thunderstorms can cause extensive flooding even hundreds of miles from the coast.
Property damage specialists at PuroClean offer the following tips for coping with a flood, minimizing property damage, and insuring a speeding recovery:
Get professional flood cleanup help quickly
Remove all water, mud, and sludge
Remove and properly dispose of contaminated porous materials (including carpet, padding, drywall, paper, cardboard, insulation, and particle board furniture)
Sanitize semi-porous materials (structural wood, solid wood furniture)
Use professional-strength EPA-approved products to sanitize the remaining salvageable structure, fixtures, and contents
Professionally and thoroughly dry the structure as quickly as possible using dehumidifiers and high-capacity air movers
Install one or more air scrubbers to remove harmful airborne particulates
Perform any needed repairs
To download PuroClean's factsheet on recovering from over-the-ground flooding, click here.
Avoid a Financial Upheaval by Adding Flood Insurance Protection to Your Homeowners Insurance Policy
Remember, a flood can cause a major upheaval in the lives of any homeowner. Be sure to carry the proper flood insurance on your Pennsylvania homeowners insurance policy. Then, whether you hail from Reading or Lancaster, Philadelphia or Allentown, Pittsburgh or Erie, you will be grateful that you had the foresight to plan ahead. Your family will thank you as well.
Need flood insurance for your home in Pennsylvania or elsewhere? Contact the commercial and homeowners flood insurance experts at American Insuring Group near Reading PA. We'll make sure you're covered with the right homeowners flood insurance to get your home and property restored quickly and thoroughly. Click the Contact link above, or call us at (800) 947.1270 or (610) 775-3848.