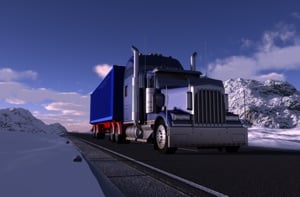 Driving a truck is challenging enough. Add some snow, sleet or freezing rain, and you have the perfect storm not only for your safety, but for your trucking insurance rates. Few truck drivers can escape driving on wintry roads because more than 70 percent of the nation's roads are located in regions that receive more than five inches average snowfall annually.
Winter Accident Rates
The Federal Highway Administration (FHA) reports that 24 percent of weather-related vehicle crashes occur on snowy, slushy or icy pavement and 15 percent happen during snowfall or sleet each year. Every year more than 1,300 people are killed, and 116,800 people are injured in vehicle crashes on snowy, slushy or icy pavements.
Handling a 40,000-pound tractor trailer on treacherous wintry roads requires special driving skills and a lot of common sense as stop time increases and visibility and traction decreases.
Here are two tips to prepare for winter driving:
Make sure you have the following supplies

in your truck. It's better not to need something and have it than to need something and not have it:
Kitty litter – When you stop for a meal or a bathroom break, your tires will be warm, which can quickly turn snow into ice. Kitty litter is a great way to get a little bit of extra traction to get you started.
Good quality Lug tires
Fuel conditioner
Methyl hydrate for fuel and air lines
Extra fuel filters (don't forget a wrench)
A hammer & putty knife. When driving in excessive amounts of snow, air tanks can quickly freeze. You can remove snow and ice packed on your air tanks with a hammer and putty knife
Windshield washer fluid
Chains
Propane heater and lighter
Extra warm clothing
Insulated socks and good boots
Extra blankets or a sleeping bag
A well-charged phone
Food and water


Be extra diligent during your circle check

. Make sure that everything is in working order including the defroster, heater, wiper blades and motor, brakes, and lights. Top off the washer fluid. A few ounces of brake line antifreeze mixed in with the washer fluid can help prevent freezing on your window. Drain moisture from the air tanks. Start with a full tank of gas for extra weight over the drive tires to help with traction. Check the tires and the tire pressure. Make sure all windows, mirrors, and lights are completely clean before departing.
Here are six tips once you hit the road:
Slow down

– This is the number one rule of safe winter driving. If roads are slick, the posted speed limits are probably too fast. Most at-fault accidents are due to excessive speeds.

Keep a safe distance

– When possible, leave about ¼ of a mile between you and the vehicle in front of you.

Don't stop on the shoulder

– When visibility is bad, another vehicle may not see you or may think that you're driving on the road and slam right into you.

Don't over brake

and don't engage the jake brake on icy roads – Your truck may slow down, but your trailer may not.

Keep lights clean

– Even if you start out with clean lights, snow and ice can build up decreasing visibility. Stop in a safe place periodically to make sure the lights on your truck are clean.

Use common sense

– You may feel pressure from hours of service rules and dispatchers, but don't put yourself (and others) in harm's way. Know your limits and what your equipment can handle. If you don't feel that the roads are safe enough to drive on, find a safe place to park your truck and wait out the storm. Call dispatch and have the delivery rebooked. Nothing is more important than your life.
Taking these precautions on snowy, icy, or slushy roads can help save lives. It can also help decrease the cost of your truck insurance premiums.
Call Us to Save on Commercial Vehicle Insurance
To learn more ways to save on any type of commercial vehicle insurance, give the experienced agents at American Insuring Group a call at (800) 947-1270 or (610)775-3848, or click here to contact us online.