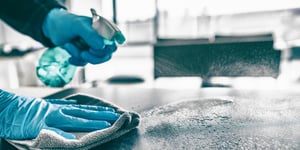 The more accidents you have in your kitchen and the more claims you file, the higher your Restaurant Insurance costs. And we all know how dangerous restaurant kitchens can be. According to the U.S. Bureau of Labor Statistics, there were 93,800 nonfatal injuries and illnesses in full-service restaurants in 2019, and about one-third of those injuries required at least one day away from work.
These injuries are costing restaurants thousands of dollars every day – both directly and indirectly. Direct costs include wage replacement, litigation costs, property losses, etc. Indirect costs include loss of productivity, OSHA fines, damage to your business reputation, workplace disruptions, etc.
Create a safer kitchen to prevent injuries, and you not only lower the cost of your insurance premiums, but you also create a better work environment, save yourself a lot of headaches, and save on many other operating costs. Here are three of the most common restaurant injuries, according to QSR magazine, and tips to avoid them.
Lacerations and Punctures
With all the knives, slicers, and breakable dishes and glasses, it should come as no surprise that lacerations and punctures are among the most common injuries in restaurant kitchens. Here are fifteen tips to minimize the risk of lacerations and punctures.
Keep knives sharp
Use the right knife for the right job
Store knives in a rack or knife block – not loose in a drawer
Curl fingers of the hand holding the food under when chopping, mincing, etc.
Wear cut-resistant gloves
Use a cutting board
Clean knives immediately after use
Don't try to catch a falling knife
Install machine guards
Maintain all equipment
Train employees on the proper use of knives and equipment
Don't wear loose clothing or jewelry that can get stuck in equipment
When washing glasses, don't quickly change the water temperature
Don't stack glassware
Don't allow glasses to rub against each other
Burns
Again, with all the hot grease, boiling water, hot stoves, and ovens, it should come as no surprise that burns are one of the most common injuries in restaurant kitchens. QSR reports that "As many as one-third of occupational burns occur in restaurants, totaling about 12,000 reported cases per year, although the actual number is projected to be much higher." Here are fifteen tips to avoid burns in your restaurant kitchen
Turn pot handles away from burners
Never leave handles sticking out over the edge of the stove
Adjust burn flames, so they cover only the bottom of the pan
Avoid overcrowding range tops
Don't leave hot oil or grease unattended for any length of time
Slowly lift lids to allow steam to escape
Keep hair, clothing, and flammable materials away from open flames
Ask for help to move very heavy pots that are hot or contain hot ingredients
Use fryer baskets
Don't fill fryer baskets more than halfway
Install splash guards on fryers
Remove excess ice crystals on food before placing in fryer
Dispose of oil correctly
Wear protective clothing, such as gloves
Use hot pads, pot holders, etc.
Sprains and Strains
Improper lifting, overreaching, tripping, etc., can cause sprains and strains in restaurant kitchens. Here are fourteen tips to minimize the risk of this type of injury.
Wear slip-resistant shoes
Clean up spills immediately
Use signs to warn of potential hazards
Keep walkways clean and free from tripping hazards
Avoid carrying loads that block your view
Ensure there is adequate lighting
Store heavier items on the middle shelves
Use a ladder or step stool instead of reaching above your shoulder height
Use hand trucks to move items when possible
Use anti-fatigue mats
Use mechanical equipment to limit repetitive tasks when possible
Provide training on safe lifting techniques
Take breaks from repetitive tasks
Avoid awkward positions
Regular employee training and the enforcement of safety procedures are crucial to minimizing injuries. Every restaurant kitchen should also have a first aid kit handy and make sure that several workers in the kitchen know how to treat minor injuries properly.
How to Save on Restaurant Insurance Costs
Developing a safe work environment is a significant step to reduce Restaurant Insurance costs, but it isn't the only step restaurant owners can take. The experienced agents at American Insuring Group can offer additional ways to lower your Restaurant Insurance costs. So give us a call at (800) 947-1270 or (610) 775-3848, or connect with us online and start saving today!