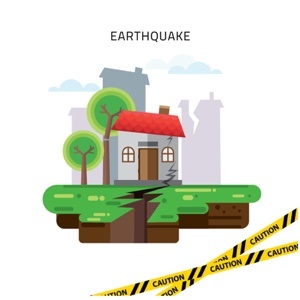 As you listen to the news about the devastating fires in Tennessee, tornado outbreaks in the Midwest, or destructive hurricanes pounding the coast of Florida, you may feel safe and sound here in Pennsylvania, especially if you have proper homeowners insurance protetion.
It is true that we are relatively lucky when it comes to natural disasters; however, we are not entirely immune to them.
Pennsylvanians still face damaging winter storms, flooding, the occasional hurricane (Agnes in 1972 and Sandy in 2012), and even earthquakes (2003 and 2007 in Flying Hills), hailstorms (May 2014 in Berks County) and tornadoes (in 2015 tornadoes were reported near Reading, Montoursville, and Selinsgrove).
Here are some tips to prepare for natural disasters in PA and beyond
Take a Home Inventory
Your first step is to create a home inventory, which is simply an itemized list of your possessions to help you establish what you have and what those items are worth. Your inventory should include photos, serial numbers, receipts, and any other pertinent information you have about the item.
You can record the information on a sheet of paper or in an Excel or Word Document – whatever makes sense for you but do make sure that you store it in multiple places. Make several copies, having both a hard copy and an electronic copy are good ideas, and at least one copy should be kept outside of your home – electronically it can be saved to the Cloud, and hard copies can be stored in a safety deposit box at a bank.
A home inventory is easy to create. Start in one room and list all of your possessions in that room, including make and model, features, purchase price, and a photograph. Then, go to the next room and do the same, and so on. It can actually be kind of fun to take inventory of all your possessions.
If you do suffer damage from a natural disaster, this document will make the insurance claim process run more smoothly, and allow you to focus on the emotional recovery.
Prepare your Home for a Potential Disaster
The following steps may not only minimize the damage you incur from a natural disaster, they may even help you avoid minor insurance claims (which may increase your premiums), enhance the value of your home, and make it look nicer.
Trim foliage – Thinning out trees and bushes can minimize or eliminate damage from wind, freezing rain, and fire.
Install fortified or impact-resistant windows
Check your roof
Review your House Insurance Coverage
Standard homeowner's policies usually cover damage from wind, fire, lightning strikes, and winter storms. However, not all policies cover damage from floods, sinkholes, or earthquakes. If you live near a body of water, you should talk to your agent about flood insurance. And keep in mind that the Federal Emergency Management Agency reports that 20% of flood insurance claims are from homeowners in moderate to low risk areas!
File Your Homeowners Insurance Claim Promptly!
If you do suffer damage from a natural disaster, contact your insurance company immediately to make a claim. The quicker you can start the claims process, the quicker you can get back to normal.
Contact Us for a Free Homeowners Insurance Assessment
Now is a great time to review your homeowner's policy to avoid any unpleasant surprises should a natural disaster strike your home.
Contact American Insuring Group online or call us at (800) 947-1270 or (610) 775-3848, and we'll be happy to review your policy to determine if you are properly protected against potential natural disasters in your area.