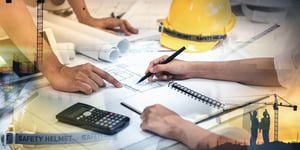 Contractor Insurance is required to protect your assets and your business, whether you're a one-person independent contractor or the owner of a construction company.
But that doesn't mean you can't lower the cost of your insurance premiums.
Here are seven smart ways to you can start saving on contractor Insurance:
Increase Deductibles
A deductible is the amount of money that you will need to pay if you make a claim before the insurance company pays anything. In other words, if you have a $500 deductible and make a $2,000 claim that is covered, the insurance company would pay $1,500 only after you have paid the $500.
Increasing the amount of your deductible will lower the cost of your premiums, freeing up funds that could be used to buy new equipment, give raises, or however you think that money could be best used.
However, before you make that decision, make sure that you have enough money in reserve that you could pay that deductible if you made a claim. Otherwise, you could find yourself without a tool or vehicle that you need to conduct business if it is stolen, damaged, or destroyed. If you can't pay that deductible, you can't repair or replace that item.
Pay Upfront
Most insurance companies will discount your rate if you can pay your insurance premium upfront, rather than monthly. So, if you have the cash available, pay your insurance premiums annually.
Combine Insurance Policies
Every contractor should have Commercial General Liability (CGL) Insurance, which covers your business for injury or property damage caused by the operation of your business or on your business premises. Chances are good, that isn't the only insurance you will need to protect your business.
You may need property insurance to protect your buildings and its contents, auto insurance to protect your vehicles, or any number of other types of insurance. Many insurance companies will give you a discount if you purchase more than one type of insurance with them.
Lower Commercial Auto Insurance
If you hire drivers with bad driving records, you will pay more for your commercial auto insurance; it's that simple. Before hiring anyone who will drive one of your commercial vehicles, check their driving records and only hire those with excellent driving records.
Another way to save on auto insurance is to evaluate new vehicle purchases. The more a vehicle is worth, the more your insurance premiums will be. So, when you are comparing the price of vehicles, don't forget to factor in the cost of insurance to cover it. You may find a less-expensive model will meet your needs and save you a ton of money in the long run.
Identify and Minimize Your Risks
The fewer claims you make, the lower your premiums will be. Identify any potential hazards and create a plan to prevent those risks, and you should be able to reduce the number of claims.
For example, there is always the risk of your tools or equipment being stolen, so if you can minimize the risk of theft – such as installing security cameras, locks, or tracking devices – you will lower the chances of those items being stolen, which means fewer claims. Fewer claims can reduce the cost of your premiums and minimize any deductibles you have to pay.
Create a Safer Worksite
We would be remiss if we didn't include this one. A safer worksite means fewer employee injuries, which means lower Workers' Compensation costs. A safer worksite also means fewer third-party injuries, which could result in expensive lawsuits; thereby, increasing your CGL costs.
OSHA offers a variety of resources to improve worksite safety, and you'll also find many tips to create a safer worksite on this blog.
Work with an Independent Insurance Agent
Independent Insurance agents – like the experienced agents at American Insuring Group – can compare several different insurance companies to ensure that you get the right coverage and the best price on all your business insurance needs, including contractor insurance. By comparison, a captive (single-company) agent can only sell policies from a single insurance carrier.
Ready to start saving? Give one of our independent agents a call at (800) 947-1270 or (610) 775-3848 or connect with us online.