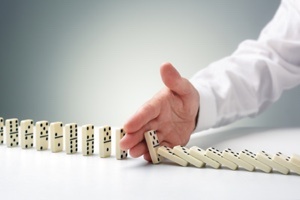 Whether you're the owner of a one-person home-based handcrafted jewelry business or a large manufacturing plant with 300 employees, you face risk every day. You could lose your entire inventory to a fire, cause an injury while driving to a client meeting, or face a lawsuit for any number of reasons.
It is true that larger companies usually face more risk, but smaller companies typically don't have the resources to recover from an injury, damage, or loss. One nasty lawsuit can put a small company that doesn't have the proper protection out of business!
Business insurance acts as a safety net and helps protect your business from unforeseen circumstances such as theft or accidents, but not every company needs every type of insurance. Here's a crash course in business insurance, but remember that an experienced, independent insurance agent can help determine what risks your business may face and the best insurance to cover those risks.
The Most Common Types of Business Insurance
There are many different types of insurance, and most businesses aren't prone to every one of the risks these insurances address, but it's good to know what is available to you.
Commercial Liability Insurance
This is a big one that most businesses need. Liability insurance protects you from lawsuits filed by customers, clients, or anyone else who decides to sue you. The three most common types of commercial liability insurance include general liability, umbrella liability, and errors and omissions liability.
General Liability Insurance protects your businesses from lawsuits for bodily injury or property damage.
Umbrella Liability Insurance goes above and beyond general liability insurance with broader coverage. Plus, if you're on the wrong end of a huge lawsuit, umbrella liability picks up when your general liability is tapped out.
Errors and Omissions (E&O) Liability Insurance (A.k.a. Professional Liability Insurance) covers you if you're sued for negligent acts or failure to provide the level of advice or service expected by a customer. Some of the businesses that typically carry this insurance are engineers, lawyers, and consultants.
Commercial Auto Insurance
Personal auto policies are meant to cover individuals and their family members and may contain exclusions for certain types of business activities. If you use any vehicle – car, truck, van, etc. - to conduct business, you'll want to look into a commercial auto policy to cover both liability and physical damage in the event of an accident.
Workers' Compensation (WC) Insurance
WC covers the cost of medical care and lost wages for employees who are injured on the job and litigation fees for businesses that are sued by an injured worker. In Pennsylvania, It is required for most businesses with employees.
Other Types of Business Insurance
Other types of coverage may be specific to a business or an industry. For example, if a company depends on one person to continue operating, they may want to purchase Key Person Insurance to protect them if that person becomes disabled or dies. If a business serves alcohol, they should look at Liquor Liability Insurance because most General Liability Insurance policies don't cover incidents caused by serving alcohol.
How the Cost of Business Insurance is Determined
Many factors determine your insurance premiums (the amount you pay for insurance). Here are a few:
Type of business: If you're in an industry that is notoriously dangerous like construction you'll pay more than a shop that sells kitchen gadgets.
Age of Business: If you've been in business for a while, you may see some of your insurance premiums decrease.
Claim History: If your company has a history of making a lot of claims, you'll probably pay more than one that doesn't.
Your deductible: Usually the higher the deductible (the amount you pay out of pocket when a claim is made), the lower your premiums.
How to Purchase Business Insurance
First, you'll want to select an agent who is licensed to sell property/casualty insurance. Also, an agent who is familiar with your business is better suited to determine your risks and your insurance needs.
Purchasing business insurance online is probably not a good idea especially if you're unfamiliar with insurance. Having an agent that you can talk to and ask questions, is well worth any savings you may or may not find online.
Are You Ready to Save on Great Insurance For Your Business?
As a broker, American Insuring Group represents several insurance companies, which means that we can compare prices among lots of competing providers, and take advantage of available discounts. The result? You get the best price on your insurance!
For a free business insurance quote, give us a call at (800) 947-1270 or (610) 775-3848 or contact us online.