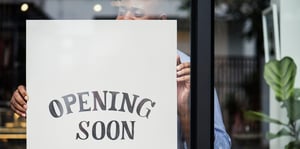 You know what they say, "Hope for the best but prepare for the worst and make sure you have the right Restaurant Insurance!" Okay, we made that last part up, but it is true.
One accident has been known to put restaurants out of business. So, before all of your hopes are dashed, think about how you can prepare for the worst. Thinking ahead will help you minimize the "worst" scenarios – such as fires, food spoilage, and accidents - and help ensure that you have the right insurance coverage if the "worst" does happen.
Here are five things to consider to help you prepare for the worst.
1. Employee Training
Yes, employee turnover rates in the restaurant industry are high. According to the National Restaurant Association, the restaurants-and-accommodations sectors' turnover rate was 74.9 percent in 2018.
But it is also true that employees are your greatest asset and some of your highest risk. While we're talking cliches… Your business is only as strong as your weakest link. Employees should be regularly trained on safety procedures, customer service, and - if your restaurant serves alcohol - alcohol service.
Safety Procedures:
Help avoid employee injuries by teaching proper lifting techniques, using equipment properly, appropriate personal protective equipment, etc.

Keep your customers safe by training employees how to handle, prepare, and store food properly and what to do in the case of a fire, robbery, etc.
Customer Service
Help minimize litigation issues by providing customer service training to employees who interact with customers.
Alcohol Service
In Pennsylvania, it is against the law to serve alcohol to a "visibly intoxicated person," and your restaurant could be held legally responsible for injuries and damages caused by an intoxicated person you served. Any employee serving alcohol should know how to recognize and prevent intoxication and how and when to refuse service.
One of the best ways to prepare for the worst is to have a comprehensive and on-going training program appropriate for each of your employees.
2. Maintain Equipment
You rely on kitchen equipment to run your restaurant. If a refrigerator malfunctions, food could spoil, causing food loss or worse - foodborne illnesses. If your stove malfunctions, you won't be able to cook food for your customers, or worse – it could cause a fire. The best way to avoid equipment breakdown is with proper maintenance.
You should have daily, weekly, monthly, quarterly, and yearly maintenance checklists that employees understand and follow, such as temperature checks on refrigerators and ice machines, cleaning schedules, inspection schedules, etc. Not only will this help your equipment last longer, but it will also help minimize unexpected breakdowns and potential disasters.
3. Maintain Your Restaurant
Minimize the risk of property damage and injuries to customers and employees by maintaining your restaurant. Keep your kitchen – countertops, floors, equipment, etc. - clean to avoid grease fires, food contamination, and employee injuries. Keep aisles and exits clear of clutter. Address any tripping hazards, such as loose tile or worn carpets. Make sure outside walkways and parking lots are safe and promptly remove snow and ice following a storm.
4. Follow Health and Safety Regulations
Every restaurant has a set of health and safety regulations issued by local, state, and federal entities they must follow. As a restaurant owner, you should be familiar with and understand those regulations or risk fines, a loss of reputation, or even possible closure.
Standard regulations include employee hygiene, food storage, and equipment safety. Remember, those regulations are designed to keep everyone safe, so following them will also help ensure your employees' and customers' safety and the success of your business.
5. Technology
Use technology to your advantage but also protect yourself from potential risks associated with technology.
For example, security cameras can help protect your property from thieves and vandals and fraudulent Workers' Compensation Insurance claims. A computer or point-of-sale device can save you time, allow you to accept credit cards, and store customer information that can be used for marketing purposes. But, in the wrong hands, that information can create problems for your restaurant, your employees, and your customers, so take steps to keep that information safe and secure.
Be Prepared With the Right Restaurant Insurance!
Sometimes, despite your best-efforts, accidents do happen, so you need to be prepared. Insurance can help protect your business if you're sued, experiences property damage, etc., so you can get back to business.
American Insuring Group can help you prepare and, as experienced independent agents, help you obtain the lowest price for the right restaurant insurance coverage. We're independent, so we're free to shop among many competing insurance carriers, resulting in a lower price than you're likely to receive from single-brand agencies. Contact us today at (800) 947-1270 or (610) 775-3848 or connect with us online.