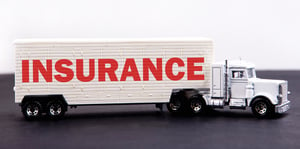 As an independent truck owner/operator or small fleet owner, Truck Insurance can be a significant part of your operating budget. While the right insurance is crucial to the well-being of you, your employees, and your business, there are steps you can take to lower those costs without compromising coverage.
Hire Wisely
Better drivers typically mean fewer accidents, and of course, fewer accidents mean lower insurance costs. According to the Federal Motor Carrier Safety Administration (FMCSA), "In 2018, at least one driver-related factor was recorded for 32 percent of the large truck drivers in fatal crashes."
Yes, we understand that good drivers can be hard to come by, but taking the time upfront to find suitable drivers and then taking steps to keep them will deliver significant savings down the road.
Doing a thorough background check and verifying employment history and references of all potential hires is the first step. Look for drivers with clean driving records. It's one of the things insurance companies are looking for to lower your insurance premiums. A general rule of thumb is to only hire drivers with no more than two minor violations in the past three years.
Generally, the more experience a driver has, the better they can handle bad weather, road rage, and other hazards truck drivers face every day. Therefore, it's no surprise that experience is one of the factors insurance companies consider when determining your insurance premiums. To take advantage of this, only hire drivers with a minimum of two years of CDL experience.
Statistically, there are more accidents involving both very young and very old drivers. The FMCSA reports, "Of the 4,786 drivers of large trucks involved in fatal crashes in 2018, 328 (7 percent) were 25 years of age or younger, and 294 (6 percent) were 66 years of age or older." Therefore, you may want to consider hiring drivers between the ages of 26 and 62.
3 Additional Tips:
Consider using FMCSA's Pre-Employment Screening Program (PSP) to screen new hires.

Consider instituting an employee retention program

Improve drivers' comfort
Always ensure that you follow all state and federal hiring laws.
Consider Your Routes
Routes you regularly drive can affect the probability of an accident and increase your insurance costs. For example, driving in high-traffic areas or areas with a higher frequency of bad weather can result in more accidents. Therefore, if you can avoid those areas, you may be able to lower your insurance rates.
Consider Your Trucks
Purchase the right vehicle for the right job; don't buy a larger or more expensive truck than what you need because it could increase your insurance costs. Also, keep up with truck maintenance and install safety features in your trucks.
Consider Policy Structure
Often, combining multiple insurance policies with one company can lower your overall costs. Choosing a higher deductible will also reduce your annual premiums, but remember… you need to have the deductible amount readily available when you make a claim.
Make Safety a Priority
Two key factors in determining your insurance rates are your DOT Safety record and your insurance claims history – how many claims you've filed, the size of the claims, etc. The better your record and the fewer your claims, the lower your rates.
While you may not be able to do anything about your current claims history, you can take steps to lower the number of claims in the future, which will result in significant savings down the road. Develop a culture of safety with safety programs and ongoing safety training for your drivers.
The Simplest Tip to Lower Your Truck Insurance Rates
Work with one of the agents at American Insuring Group, who specialize in truck insurance. They understand your challenges and needs and can help ensure you get the right coverage. Also, as independent agents, they will compare the cost of that coverage with multiple insurance companies to ensure you get the lowest rate.
Give us a call at (800) 947-1270 or (610) 775-3848, or connect with us online to start saving on your Truck Insurance costs.