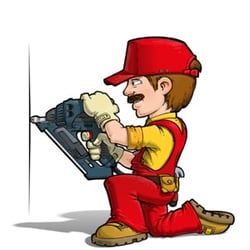 Contractors and handymen, do you remember the days before nail guns? When you had to use a hammer to nail something.
Today, you probably can't imagine doing your job without a nail gun! They've probably made your job a lot easier, and, unfortunately, more dangerous, which can lead to increased workers compensation insurance claims and higher insurance costs.
According to the CDC, nail guns are responsible for approximately 37,000 emergency room visits every year. Sixty-eight percent of those injuries are work-related. Severe nail gun injuries can even cause death.
7 Risk Factors for Nail Gun Injuries
The CDC has identified 7 major risk factors that can lead to nail gun injury:
Unintended nail

discharge from double fire



Unintended nail

discharge from

knocking the safety contact

with the trigger squeezed



Nail penetration

through lumber workpiece



Nail ricochet

after striking a hard surface or metal feature



Missing

the workpiece



Awkward

position nailing



Bypassing

safety mechanisms


Nail Gun Safety Prerequisite: Know Your Triggers!
Before we can discuss ways to avoid nail gun injuries, it's important to understand the different types of nail gun triggers.
There are two controls with every nail gun: a finger trigger and a contact safety tip on the nose of the gun.
Full sequential trigger

– This is the safest type of trigger. The controls need to be activated in a very specific order for the gun to fire, and nails can't be bump fired – also called bounce nailing. Bump firing or bounce nailing is using a nail gun with a contact trigger held squeezed and bumping or bouncing the tool along the workpiece to fire nails.



Contact trigger

– This type of trigger fires a nail when the safety contact and trigger are activated in any order. A nail will be fired each time the safety contact is pushed in if you keep the trigger squeezed. Nails can be bump fired with this type of trigger. Contact trigger nailers are prone to double firing, according to the Consumer Product Safety Commission (CPSC).



Single sequential trigger

– To fire this type of trigger, controls must be activated in a specific order and nails cannot be bump fired just like the full sequential trigger. However – unlike the full sequential trigger – only the trigger must be released to fire the second nail.



Single-actuation trigger

– This trigger will fire a single nail when the safety and trigger are activated in any order just like the contact trigger. To shoot the second nail, you can release the trigger, move the tool and squeeze the trigger again without releasing the safety again. Nails can be bump
6 Ways to Avoid Nail Gun Injuries
The CDC offers six steps to help avoid nail gun injuries:
Use full sequential trigger nail guns

, which reduce the risk of unintentional discharge and double fires especially with inexperienced employees.



Provide safety training

to both new and experienced employees that covers topics such as how triggers differ and the leading causes of injuries and how to avoid them.



Establish nail gun work procedures

specific to your company that address risk factors.



Provide personal protective equipment

(PPE) such as safety shoes, high-impact eye protection, etc.



Encourage reporting and discussion of injuries

and close calls to draw attention to possible risks, so they can be avoided and to ensure that your employees are getting medical care when needed.



Provide first aid and medical treatment

. Sometimes, what seems like a minor injury can be more severe. For example, materials such as nail strip glue or clothing can become embedded, which can cause infection.


Play it Safe with Proper Workers Compensation Insurance!

It is your responsibility to provide the safest workplace environment for your employees. The fact that it also reduces your workers' compensation costs is just icing on the cake!
To learn more about saving on workers compensation insurance, give American Insuring group a call at (800) 947-1270 or (610) 775-3848 or contact us online. Our independent agents are ready to get you solid coverage options at a great price. Call or click today.