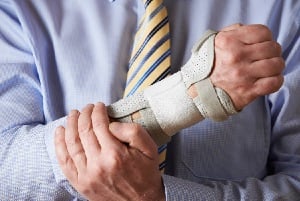 There is a very simple way to reduce health insurance and workers compensation insurance costs: provide a safer work environment and reduce the number of workplace injuries. We said it was simple, not easy.
Musculoskeletal Disorders - Largest Category of Workplace Injuries
We spend a lot of time talking about safety in the workplace in more dangerous industries such as construction and trucking, but every workplace has its safety risks. One risk almost every worker faces is Musculoskeletal Disorders (MSDs), also known as repetitive motion injuries. MSDs are the largest category of workplace injuries. According to OSHA, MSDs are responsible for 34 percent of all lost-workday injuries and illnesses, account for $1 of every $3 spent for workers' compensation, and cost U.S. companies as much as $50 billion every year in direct costs.
In addition to increased medical and insurance costs, MSDs cause painful injuries that sometimes require surgery and prescription medications, reduce productivity, and decrease morale. While most MSDs are very preventable, many companies do little or nothing to reduce or eliminate MSD risks. A proactive, prevention-focused approach to MSDs can save your business a significant amount of money and your employees a great deal of pain. Preventing an injury rather than treating it just makes good business sense.
What are Musculoskeletal Disorders?
MSDs, Aka repetitive motion injuries are injuries that affect the movement of the musculoskeletal system including muscles, nerves, tendons, ligaments, discs, blood vessels, etc., and they can impact any employee from an office worker to a construction worker.
The parts of the body usually affected by MSDs include the arms, hands, fingers, neck, back, wrists, legs, and shoulders. Common MSDs include Carpal Tunnel Syndrome, Tendonitis, Tension Neck Syndrome, Herniated disc, etc.
When employees are exposed to MSD risk factors, a certain part or parts of their bodies become fatigued, and when that fatigue continues more rapidly than the body can recover, a musculoskeletal imbalance occurs, which can eventually lead to an MSD.
Workplace tasks that can cause this fatigue – known as ergonomic risk factors - include things like high-task repetition (cycle time of 30 seconds or less), forceful exertions, awkward postures, static postures, quick motions, compression or contact stress, vibrations, and cold temperatures.
What is Ergonomics?
OSHA defines ergonomics as "the study of work. More specifically, ergonomics is the science of designing the job to fit the worker, rather than physically forcing the worker's body to fit the job." According to OSHA, "Ergonomics draws on a number of scientific disciplines, including physiology,biomechanics, psychology, anthropometry, industrial hygiene, and kinesiology."
By identifying ergonomic hazards in a workplace and adapting tasks, workstations, tools, and equipment, employers can reduce physical stress on their employees' bodies and eliminate many MSDs.
How to Develop an Effective Ergonomic Program
To develop an effective ergonomic program, you need to identify potential ergonomic risk factors by reviewing operations and work practices; examine injury and MSD history within your company and information from OSHA, insurance companies, and other sources; and survey the employees performing the jobs.
Control methods of an ergonomic program may include engineering controls or work practice controls. Engineering controls may consist of eliminating excessive force and awkward posture requirements by using mechanical assists, counterbalance systems, adjustable height lift tables and workstations, powered equipment, and ergonomic tools. Work practice controls may include training on safe and effective procedures to complete tasks, job rotation to avoid prolonged periods of performing a single task, and regularly scheduled rest or stretch breaks.
Recognizing and controlling ergonomic risk factors is an essential step to providing a safe workplace for all of your employees and improving your bottom line. Good ergonomics is good economics. So is good insurance.
Protect Your Business With Great Insurance - Learn More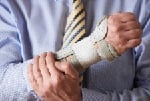 To learn more about properly protecting your business, give American Insuring Group a call at (800) 947-1270 or (610) 775-3848, or contact us online.
Our independent agents can educate you on your options and provide you with great business insurance at an unbeatable price! Call today to learn more.