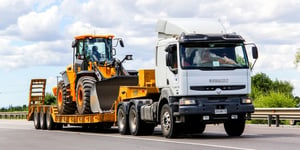 Contractors face many perils in the course of a job, and Contractors Insurance is crucial to protecting their equipment, materials, supplies, etc., against those perils. Commercial Property Insurance is one type of coverage most contractors purchase, but it is typically limited to losses that occur on the job site.
Commercial Property Insurance usually provides little or no coverage for materials, equipment, machinery, or supplies in transit or storage. Builders Risk Policies – such as Installation Floater coverage – can fill that gap.
What is Installation Floater Insurance?
The International Risk Management Institute defines Installation Floater coverage as "inland marine coverage on property (usually equipment) being installed by a contractor. Essentially a specialized type of builders risk coverage that is often written on the same form used to provide builders risk coverage."
It is designed to cover property that is being installed or awaiting installation. Every floater is different and is based on the needs of the contractor. Typically, an Installation Floater covers materials, equipment, machinery, supplies, and personal property while it is…
Stored off-site

In transit

Being staged

Being installed
Installation Floaters typically cover new construction and remodeling projects and can be written as a single project policy or a blanket policy. Anyone with an insurable interest in a project can purchase this type of insurance.
Installation Floaters typically cover most risks – fire, theft, traffic accidents, vandalism, etc. – but may exclude perils, such as earthquakes, floods, sewer backups, employee theft, etc.
What Makes Installation Floaters Different?
Installation Floaters offer tailored protection that can cost less than typical Builders Risk Insurance, making it ideal for some contractors.
For example, sometimes, standard Builders Risk Insurance does not extend to subcontractors; therefore, Installation Floaters can be beneficial to contractors or subcontractors with a limited scope of work on a project.
Installation Floaters may also be beneficial to contractors that perform work that is typically excluded from Builders Risk Insurance. The installation of high-value equipment or materials, such as HVAC units, solar panels, windows, doors, roofing, and electrical systems is often excluded from Builders Risk Insurance. If it is included, the contractor is still responsible for deductibles.
Like most Builders Risk Insurance policies, Installation Floaters typically exclude certain things:
Trees, shrubs, and plants

Property while it is in the air or on the water

Losses during testing

Some types of temporary structures, such as scaffolding or temporary fencing
Having Installation Floater Insurance can provide an added layer of protection that fills any gaps in your Commercial Property and/or Builders Risk Insurance. Choosing which coverage – installation floater or builders' risk – is right for you can be challenging.
What is Best for Your Needs?
When determining which type of policy or policies are best for your needs, you need to consider the type of project and the coverage you need. Installation Floater Insurance is usually less expensive and offers narrower coverage, which can make it a good choice for smaller projects.
The best way to determine the right insurance coverage for your business is to work with an experienced agent. American Insuring Group specializes in Contractors Insurance, and as independent agents, we check with multiple insurance companies to ensure you get the lowest cost. Give us a call at (800) 947-1270 or (610) 775-3848 or connect with us online.