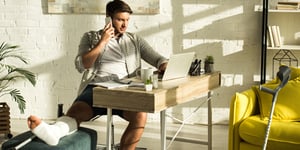 If the COVID-19 pandemic has forced many of your employees to work from home, have you considered the ramifications it may have on your Workers' Compensation Insurance? It may not be high on your radar as you continue to struggle through all the logistics of staff working from home, but it should be.
Workers' Compensation claims can be complicated enough. If that injury occurs while the employee is at home, it can complicate it even further. The Society for Human Resource Management states, "In general, an employee injury or illness is compensable under workers' compensation if it arises out of and in the course of employment, regardless of the location the injury occurs."
Due to 1) a lack of defined case law in this area and 2) the limited ability to investigate incidents that occur at home, telecommuting is creating WC issues for many employers.
Injuries can and do occur while employees are working from home. Therefore, you must do your best to ensure that…
Employees have a safe work environment even if they are working from home


Both you and your employees understand what is expected of them


You respect their rights


Employees receive appropriate medical attention if an injury "arises out of and in the course of employment"


You have a process in place to properly investigate work injuries that occur at home.
The best way to ensure this and avoid potential WC issues is to create a Telecommuting Policy before something does happen.
A Telecommuting Policy
A Telecommuting Policy forces you to address the potential risks of working from home and lets employees know what is expected of them. Create and implement a written work-at-home contract that is signed by both employee and employer and is strictly enforced.
This contract should do the following:
Outline the hours that an employee will be working, including meals and rest periods. Also, include provisions regarding overtime. If the schedule changes, it should be documented via email.


Define where the employee will be working, whether that's his or her home address or another physical location they chose to work from. Define the specific work area(s) within the home or other location and provide training to help them set up a safe workstation. If it is possible, check an employee's home office to identify potential safety hazards and how to eliminate them.


Discourage employees from performing personal activities in their at-home workspace.


List what employer-owned equipment – such as laptop computers – the employee can use outside of the workplace.


Describe how employees should store and dispose of sensitive information.


Include details about how any work-related injury investigations will occur. You need to respect your employee's privacy, but you also have the right to do an investigation of any work-related injury. Specific language is key. Require the employee to state in writing that they understand that their home-work environment must be safe and that they need to cooperate if a work-related injury occurs. That includes seeking medical treatment if needed, documenting the injury, and allowing the employer access to the workspace during regular business hours.


Include a Workers' Compensation Statement that informs the employee of their protection under WC laws and that they are responsible for reporting all work-related injuries promptly.
Our Experts Will Help You Save on Workers' Compensation Costs
Ensuring the safety of your employees and having a process to investigate injuries that occur at home can help you save on Workers' Compensation costs.
Another great way to save is to work with one of the independent insurance agents at the American Insuring Group. We specialize in WC insurance and will compare pricing and coverage among many competing insurance carriers. We research so you can save! Give us a call at (800) 947-1270 or (610) 775-3848 or connect with us online.