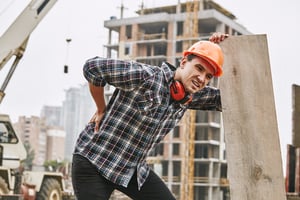 We often discuss safety and how it can help businesses save on Workers' Compensation Insurance, but the only way that can happen is with a company-wide culture of safety. Too often, employees ignore the importance of safety and members of upper management don't understand the benefits of developing a safe work environment.
It takes more than lip-service or a few signs on the wall to develop an effective workplace safety program that results in fewer workplace injuries, fewer WC claims, and lower Workers Comp costs. It takes a plan, commitment, enforcement, and company-wide buy-in, but the effort is worth the results.
Benefits of a Workplace Safety Program
As an insurance company, we focus on the reduced Workers' Compensation Insurance costs that a safe work environment can bring to a company, but developing, implementing, and enforcing a workplace safety program provides plenty of other advantages and makes good business sense.
According to OSHA, a study of small businesses that registered with the Workers' Compensation Board of British Columbia found a statistical correlation between workplace safety and health and the survival of a small business. The report found that businesses that failed within one to two years of start-up had an average injury rate of 9.71 while businesses that survived more than five years had an average injury rate of 3.89 in their first year of business.
Here Are a Few of the Other Benefits of a Workplace Safety Program:
Lower medical expenses
Reduced paid time off
Reduced litigation
Reduced disaster mitigation
Compliance with regulations, laws, and standards
Reduced training costs
Reduced recruitment and hiring costs
Increased productivity
Improved financial performance
Positive public image
Higher employee satisfaction
Do you need more proof that a safety program is a smart business move? OSHA's Safety Pays program allows you to assess the impact of occupational injuries and illnesses on your profitability. The program uses your profit margin, the average costs of an injury or illness, and an indirect cost multiplier to project the amount of sales you would need to cover those costs.
How to Develop a Workplace Safety Plan
According to the Society for Human Resource Management (SHRM), there are six critical elements of an effective safety management program:
Management Commitment– From the CEO to the mailroom clerk, everyone within the company needs to understand the importance and benefits of a safe work environment and be willing to do what is needed to create that safe environment.
Employee Involvement – Examples of employee participation include participating in joint labor-management committees, developing safety rules, and reporting hazards.
Worksite Analysis – One of your first steps to creating a safe work environment is to identify potential hazards.
Hazard prevention and control – This means correcting all current and potential hazards, ensuring that all parties understand and follow safe work practices, that appropriate personal protective equipment is provided, and that administrative controls are followed.
Training – All employees and managers should be trained on safety procedures, including potential hazards and how to avoid them, individual responsibilities, OSHA's requirements, what to do when an injury does occur, etc.
Communication – Consistently communicating with all interested stakeholders is vital to a successful safety program. That communication should be in the form of safety meetings, informal discussions between supervisors and employees, posters and bulletins, newsletters, and a safety suggestion box.
Want to Learn More About Safety in the Workplace?
Check out American Insuring Group's informative blog. From electrical safety to fire safety and everything in between, you'll find plenty of resources to help you create a safer workplace. Then give one of our independent Workers' Compensation Insurance experts a call to save big! Call us at (800) 947-1270 or (610) 775-3848 or connect with us online.