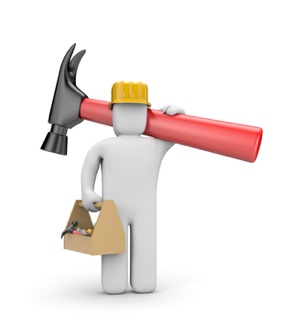 Every employer is responsible for insuring a safe working environment for his or her employees. If you're in construction, workplace safety should move to the top of your priorities because more than 20% of the work-related fatalities in 2013 occurred in the construction industry.
STEP #1: Identify Construction Safety Hazards
First, you need to identify potential hazards. OSHA lists the following hazards for individuals in the construction industry:
Falls (from heights),
Trench collapse,
Scaffold collapse,
Electric shock and arc flash/arc blast,
Failure to use proper personal protective equipment, and
Repetitive motion injuries.
STEP #2: Address Construction Hazards
Next, you need to address those hazards. OSHA has identified the following as some of the most frequently cited hazards:
Scaffolding

– Approximately 2.3 million construction workers regularly use scaffolds, and it is estimated that 4,500 injuries and 50 fatalities related to the use of scaffolding occur each year. To help avoid some of these injuries and fatalities, you need to ensure that scaffolding is erected by a competent person using stable supports on solid footing and that it is inspected regularly. Scaffolding should be sound; located at least 10 feet from electric power lines; equipped with guardrails, midrails, and toeboards; and accessible by ladders or stairways.


Fall protection

– Falls account for the greatest number of fatalities in the construction industry. They're caused by unstable work surfaces, failure to use fall protection equipment, and human errors. Using guardrails, fall arrest systems, safety nets, covers and restraint systems, you can prevent many deaths and injuries caused by falls.


Ladders

– there are approximately 24,882 injuries and 36 fatalities each year due to falls on stairways and ladders used in construction. To avoid some of those falls, you need to use the right ladder for each task, inspect ladders regularly, ensure that ladders are long enough to safely reach the work area, and never over-load ladders.


Head protection

– You need to ensure that workers wear hard hats where needed to reduce serious head injuries that can result from blows to the head, from falling objects, or other hazards.


Hazard communication

– In order to avoid chemical burns, respiratory problems, fires and explosions caused by not recognizing the hazards associated with chemicals, you should maintain a Material Safety Data Sheet (MSDS) and make the information accessible to employees. Plus, you need train employees on how to read those MSDS and provide personal protective equipment, a written spill control plan, and spill clean-up kits.


Electrical

– Electric shock, electrocution, fires, and explosions can be serious workplace hazards in the construction industry. To avoid these hazards in your workplace, ensure that all electrical tools are properly grounded and extension cords have grounding prongs, locate and identify all overhead electrical power lines and inspect and ensure that equipment and materials never come within ten feet of those lines, and maintain all electrical tools and equipment.
Ensuring the safety of your employees is important to the health and safety of your employees and the health and safety of your business. Neglecting the safety of your employees can cause lawsuits, higher health insurance premiums, higher construction insurance premiums, and higher workers compensation premiums and related costs.
Get the Right Construction Insurance

To learn more about reducing your construction insurance costs while acquiring quality insurance protection, contact an American Insuring Group agent at (800) 947-1270 or (610) 775-3848. We're Independent Insurance Agents, so we're free to shop among many competing insurance carriers to find the right insurance at the best price, including construction insurance, worker's compensation insurance, and every other type of insurance your business may need. Contact us today.