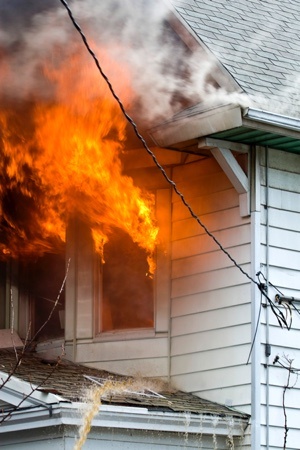 When people think of homeowner's insurance the first thing that often comes to mind is fire in the home. We can't think of many scenarios that are scarier than a home fire. Fire can spread very quickly. In just two minutes, a fire can become life-threatening. In five minutes, a residence can be engulfed in flames.
There's an estimated $7.3 billion in property loss due to home fires each year. More importantly, more than 2,500 people die, and 12,600 people are injured in fires every year.
Most fires occur in the kitchen. Other common causes include carelessly discarded cigarettes, sparks from fireplaces, and heating appliances that are too close to furniture and other combustibles.
Heat and smoke are often more dangerous than flames. Breathing in super-hot air can sear your lungs, and poisonous gasses produced by a fire can make you disoriented and drowsy. More fire deaths are caused by asphyxiation than burns (a three-to-one ratio).
The good news is that home fires are preventable, but you need to be aware of potential hazards, and you need to be diligent about eliminating those risks. As a bonus, you'll reduce the likelihood of a homeowners insurance claim and potentially lower your long term house insurance costs.
Here are five tips to prevent fires and help keep your family, your home, and your possessions safe from fire
Cooking
Stay in the kitchen when you are cooking. Create a 3-foot "kid-free zone" around your stove. Keep outside grills at least 10 feet from siding and deck railings and out from under eaves and overhanging branches.


Portable space heaters
Keep combustible objects at least three feet away from portable heaters and only use heaters that have been evaluated by a nationally recognized laboratory, such as Underwriters Laboratories (UL). Before purchasing a kerosene heater, check on the legality of a kerosene heater with your local fire department.


Fireplaces and woodstoves
Inspect and clean fireplaces and woodstoves annually. Use a fireplace screen and make sure the fire is completely out before leaving the house or going to bed.


Smoking
If you smoke, do it outside (especially if oxygen is used inside the house) and make sure your cigarettes are completely extinguished in an ashtray or can filled with sand. Soak butts and ashes in water before placing them in a trash can.


Electrical
Use products that have been evaluated by a nationally recognized laboratory, such as Underwriters Laboratories (UL). Check for and replace worn or damaged cords, and never try to force a three-prong plug into a two-slot outlet. Don't overload extension cords or wall sockets.
A few more practical tips
Finally, check your smoke detectors and replace the batteries regularly. A simple way to remember to check them is to do it in the spring and fall when we change our clocks for Daylight Saving Time.
You should also have a professional inspect your home - electric wiring, plumbing (gas), heating, and air conditioning – regularly for potential hazards.
You may also want to consider installing a fire alarm system and a home sprinkler system that can help detect and extinguish fires even if you aren't home.
"An ounce of prevention is worth a pound of cure" couldn't be truer than when you're protecting your home and family from fire. To learn more about fires and how to prevent them, go to https://www.ready.gov/home-fires.
For related information on protecting your home, see our blog post: How to Recover Quickly From Water Damage.
Avoid Regrets - Get a Free Homeowners Insurance Checkup
Your home is your castle and the source of many fond memories. Don't take a chance with your safety or your memories. Contact American Insuring Group online or give us a call at (800) 947-1270 or (610) 775-3848 to review your home owner's policy.
We're experts at finding the right policy at the right price by searching for you among many competing insurance providers. Contact us today to start saving and for your peace of mind.