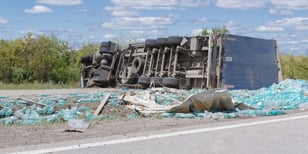 As more and more risk managers require Cargo Insurance, it's essential to understand how it fits in with your Trucking Insurance Coverage. When the cargo you are transporting is lost or damaged, liability for that loss can fall on the transportation company, the shipper, the recipient, or the driver. And while you may do everything within your power to ensure the safe delivery of your cargo, things – beyond your control – can happen.
Cargo Insurance helps cover the freight or commodity that you are hauling if it is lost or damaged. However, not all Cargo Insurance policies are the same; therefore, you must understand the policy you're purchasing so you have the protection you need without paying more than you need to.
Here are five questions every driver should ask about Cargo Insurance:
Do I qualify for Motor Cargo Insurance?
Cargo Insurance is available to for-hire truck drivers. Typically, it is available for the following truck body types:
Tractor

Most trailers

Dump Trucks

Box Trucks

Cargo Vans

Flatbeds

Car Haulers

Cement mixers
Typically, Cargo Insurance is not available for the following:
Garbage Trucks

Ice Cream Trucks

Limousines

Hearses

Buses

Passenger Vans
What cargo is covered and not covered?
Most types of cargo are covered under Cargo Insurance; however, there are also many exclusions, which is why it's important to work with a trusted insurance agent.
Typical exclusions include the following:
Live animals

Art, Jewelry, Money, Paper

Tobacco and Alcohol

Pharmaceuticals

Contraband

Explosive materials

Shipping containers

Storage longer than 72 hours

Cargo in the custody of another carrier

Cargo owned by the insured

Cargo not included in the Bill of Lading
Some Cargo Insurance policies also include debris removal. If your cargo is accidentally dumped on the road, this coverage helps pay for the expense of removing it or the extraction of pollutants caused by the debris. You can also purchase coverage to pay for costs related to preventing additional damage to the spilled cargo.
What incidents are covered and not covered?
Most Cargo Insurance policies cover collision, theft, natural disasters, acts of war, customs rejection, and fire, but again, you must confirm that what you are hauling is covered by the insurance you're purchasing.
Refrigerated truck drivers may also want to consider purchasing reefer mechanical breakdown coverage, which helps cover refrigerated cargo that is spoiled due to a mechanical breakdown or an accident. But read the fine print as there may be cargo excluded from that policy, such as seafood, tobacco products, or pharmaceuticals.
What are the limits and the deductible?
Your Motor Truck Cargo Insurance will also come with a limit, which is the maximum amount the insurance company will cover if your cargo is lost or damaged. If you are carrying high-end cargo – such as electronics – you'll need to ensure that you have a higher limit. On the other hand, if the value of your cargo is low, you may be able to lower your costs by reducing your limit.
Increasing the deductible is a common way to lower just about any insurance premium, and Cargo Insurance is no exception. The deductible is the amount that the policyholder will have to pay before the insurance company kicks in if a claim is made. The higher the deductible, the lower your premiums. However, you need to make sure that you have some way to cover that deductible if you need to make a claim.
How can I save on Cargo Insurance?
The best way to save on Cargo Insurance is to work with independent agents that specialize in trucking insurance. American Insuring Group has specialized in Truck Insurance for many years. Our agents know what questions to ask to ensure that you have the right coverage for your needs, and as independent agents, they check with several carriers to ensure you pay the lowest price for that coverage.
Give us a call at (800) 947-1270 or (610) 775-3848 or connect with us online for a free estimate.