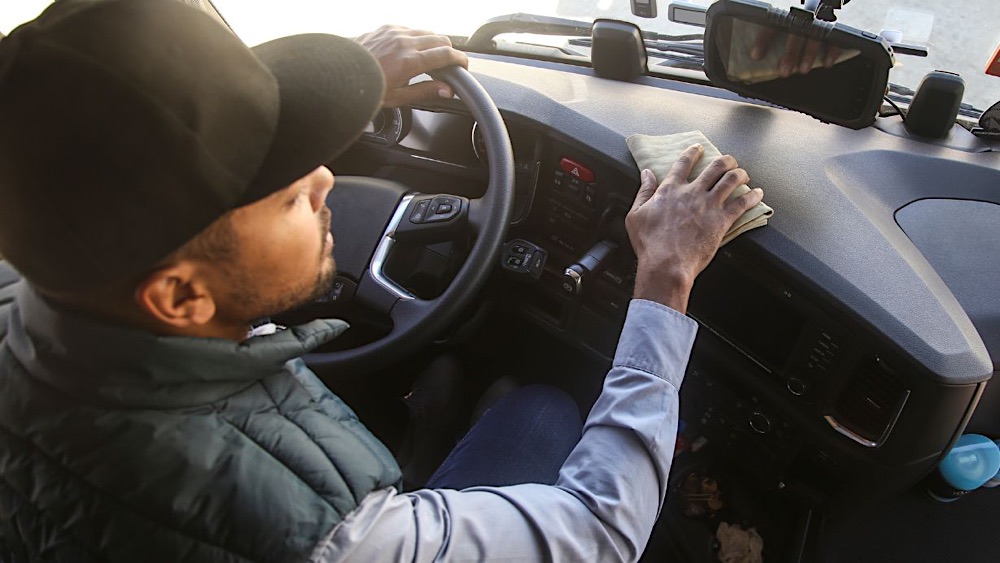 Unfortunately, many experienced drivers become immune to hazards affecting Commercial Truck Insurance costs. Therefore, drivers and management must be regularly reminded of common driving hazards, the consequences of ignoring them, and how to avoid them.
One such hazard is driver distraction. Of course, every driver knows that texting is dangerous, but it's easy to forget or discount this fact when facing all the challenges of driving a truck.
A driver might think, "Two seconds. That's all I need—two seconds to let my wife know that I'll be late tonight. If I take the time to pull over to send the text, I will be even later. I'm just going to send a quick text." It seems innocent enough, but drivers must be reminded of the studies and research showing how even one quick text (or other driving distraction) can instantly change their lives.
What is Driver Distraction?
The Federal Motor Carrier Safety Administration (FMCSA) defines driver distraction as "the diversion of attention from activities critical for safe driving to a competing activity." Distractions can come from inside – texting, eating, adjusting the radio, etc. - or outside – billboards, unusual sights, etc. If anything takes your eyes off the road, it is a distraction. If anything takes your mind off driving, it's a distraction. If anything forces you to take your hand or hands off the wheel, it's a distraction.
The Potential Consequences of Distracted Driving
The most obvious and significant potential consequence of distracted driving is an accident, which can result in death, injuries, property damage, higher operating costs, litigation, and more. A severe accident can change a driver's life, his family's lives, and the lives of others forever!
However, if the fear of an accident isn't enough to persuade someone from driving distracted (it's too easy to think, "It won't happen to me."), then the potential legal ramifications of certain distractions need to be considered.
The FMCSA restricts the use of all handheld mobile devices by CMV drivers while operating a commercial vehicle.
The FMCSA states, "This rulemaking restricts a CMV driver from holding a mobile device to make a call or dialing by pressing more than a single button. CMV drivers who use a mobile phone while driving can only use a hands-free phone located in close proximity." Furthermore, "Using a handheld mobile phone while driving a CMV can result in driver disqualification. Penalties can be up to $2,750 for drivers and up to $11,000 for employers who allow or require drivers to use a handheld communications device while driving."
And finally, "Multiple convictions for texting while driving a CMV can result in a driver disqualification by FMCSA. Multiple violations of State law prohibiting texting while driving a CMV that requires a CDL is a serious traffic violation that could result in a CDL driver being disqualified for up to 120 days."
The Most Dangerous Distractions
An FMCSA study found that text messaging is the most dangerous distraction. Texting increases the chance of being involved in a safety-critical event (e.g., crash, near-crash, unintentional lane deviation) by 23 times. For example, if you're driving 55 mph, writing a text takes your eyes off the road for about five seconds, and in those five seconds, you travel the length of a football field without looking at the road.
Other "complex tertiary tasks" that increase your risk of an accident include the following:
Other complex tasks, such as cleaning a side mirror or rummaging through a grocery bag – 10.07 times

Interacting with or looking at a dispatching device – 9.93 times

Writing – 8.98 times

Using a calculator – 8.21 times

Looking at a map – 7.02 times

Dialing a cell phone – 5.93 times

Reading – 3.97 times
Other tasks that are less risky but can still distract a driver include the following:
Using other electronic devices, such as cameras and two-way radios

Personal grooming

Eating

Reaching for something

Talking or listening on a hands-free phone
Fortunately, most distractions are avoidable.
Here's How to Lower Your Truck Insurance Costs
Reminding drivers of distractions and other hazards will minimize the risk of accidents and help lower your Truck Insurance premiums. In addition, the independent agents at American Insuring Group can help reduce all your insurance costs. We compare policies and prices among competing insurance carriers to get you the right truck insurance at a great price.
Call us today at (800) 947-1270 or (610) 775-3848, or connect with us online!