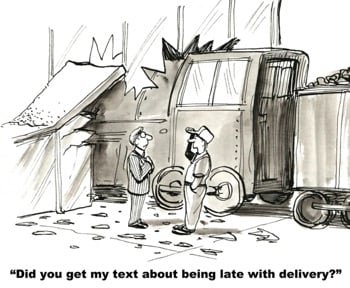 If you're a CMV (Commercial Motor Vehicle) driver, you've probably heard of a little federal agency called the Federal Motor Carrier Safety Administration (FMCSA).
As part of the U.S. Department of Transportation, FMCSA regulates the trucking industry throughout the United States. Its primary mission is to reduce CMV crashes, injuries, and fatalities, all of which are great for keeping your truck insurance costs under control.
While there are still many states that have not banned texting while driving or even addressed distracted driving in general, any driver engaged in interstate commerce is subject to FMCSA laws regardless of what state they're starting from or driving into.
What Truckers Cannot Do Under FMCSA
The FMCSA has made their stance very clear: "No Call, No Text, No Ticket!" That means…
No Reaching
No Holding
No Dialing
No Texting
No Reading
Penalties
Drivers can be fined up to $2,750.
The driver's employer can be fined up to $11,000 if they knowingly allow or require drivers to use hand-held devices while driving.
Repeat offenses will result in a driver being put out-of-service for up to 120 days (60 days for two serious traffic violations in three years/120 days for three violations in three years).
Violations will negatively affect the employer's Safety Measurement System ratings.
Drivers can be subject to severe civil fines.
The driver's employer may also impose penalties, which often includes termination.
Harsh or Smart? 23 x More Likely to ...
Research commissioned by the FMCSA shows that CMV drivers who text while driving have a 23.2 times greater chance of "being involved in a safety-critical event (e.g., crash, near-crash, unintentional lane deviation)." The research shows that drivers who are texting take their eyes off the road for an average of 4.6 seconds. To put that into perspective: someone driving 55 mph will travel 371 feet (approximately the length of a football field) without looking at the road.
Distracted Driving Death Toll
The National Highway Traffic Safety Administration (NHTSA) reports that distracted driving took the lives of 3,477 people in 2015 alone. The CDC has reported that every day, approximately nine people are killed and more than 1,000 injured in crashes in the U.S. due to a distracted driver. The CDC defines distracted driving as "driving while doing another activity that takes your attention away from driving" including texting and cell phone use.
What every CMV driver needs to know about FMCSA's rules regarding distracted driving
Texting and hand-held mobile phone use while operating a CMV is prohibited.
According to FMCSA, texting means "manually entering alphanumeric text into, or reading text from, an electronic device."
These rules do not apply to devices used as part of the company's fleet management system for dispatching (except if they're used for texting).
The use of hands-free options to make phone calls are usually acceptable.
Technically, even texting or using a hand-held device to make a call while stopped at a traffic light or traffic delay is prohibited. You should safely pull over to the side of the road
Any hands-free device (earpiece-speaker phone, hands-free dialing, or hands-free mode) needs to be located close to the driver. Hands-free means being able to safely activate a mobile device by touching a single button, while safely and properly seated and restrained.
Today, many trucking companies are using hands-free dispatching devices. Some of these devices only show a short message or simply beep until the driver stops and parks.
The FMCSA has made it quite clear: "No Calls, No Texting, No Tickets." So, unless you want to face penalties, possible loss of your job, or even worse – death or injury to someone, do not text or use a hand-held mobile device while driving.
How to Save on Trucking Insurance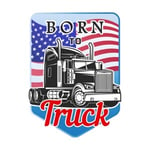 Give American Insuring Group a call at (800) 947-1270 or (610) 775-3848 or contact our trucking insurance specialists online to get the right trucking insurance at a great price.
We'll analyze your risks and then shop among many competing insurers to find the policy that's right for you. Our independence leads to your savings. Contact us today!
For additional information on FMCSA rules and guidelines:
https://www.fmcsa.dot.gov/sites/fmcsa.dot.gov/files/docs/Mobile_Phone_Rule_Fact_Sheet.pdf
https://www.fmcsa.dot.gov/sites/fmcsa.dot.gov/files/docs/No_Texting_Rule_Fact_Sheet.pdf