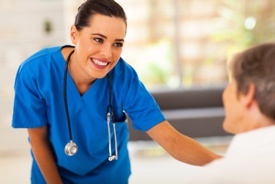 If you're like most Americans, your life is pretty good right now (probably a lot better than you realize), and you see no reason why that should change in the foreseeable future. Now imagine being blindsided by a serious illness that takes away your good health and puts a significant dent in your income.
This is not some doomsday scenario; it happens often. And it can leave a trail of financial stress that can impede the healing process.
Dr. Marius Barnard, the famous South African cardiac surgeon, saw first-hand the effects of the financial and emotional stress of serious illnesses on his patients, and in 1983 he came up with the idea of critical illness insurance, a special form of health insurance, as a way to counteract it.
What is Critical Illness Insurance?
If you are ever diagnosed with a life-altering illness that has been pre-specified in your policy, Critical Illness Insurance will provide you with a lump-sum payment that you can use any way you choose.
Although your health insurace plan will identify what is covered, the following illnesses are typically included:
Heart attack
Stroke
Cancer
Multiple Sclerosis (MS)
Organ transplants
Parkinson's disease
Alzheimer's disease
HIV treatments
Blindness
The advantages of critical illness insurance
Your health insurance should pay the bulk of your medical expenses, but think about all the things it doesn't cover—this is the biggest advantage to critical illness insurance. The lump sum payout from your plan can ensure that you don't have to face any financial disruptions in addition to coping with a serious medical condition.
Consider these five ways that Critical Illness Insurance can be an economic lifesaver:
You may have to travel for treatment

. Depending on your illness, your doctor may recommend an out-of-state hospital with a successful track record in treating your condition. Without savings or a payout from a critical illness insurance plan, you could be forced to run up your credit card for airfares, hotels, and meals. It might take years to pay off these expenses after you recover.



You'll need to pay what your health insurance doesn't

. Copays and deductibles are becoming larger as health insurance premiums increase. And there are always other out-of-pocket expenses with which to contend.



You'll need to make your mortgage payments

. If you're like most people, you have a life insurance policy that pays off your mortgage if you die. But like any set of statistics will show, if you are younger, you are much more likely to be disabled by an illness than to die. Part of a lump sum payment could be used to make your mortgage payments while you heal. Imagine the peace of mind that would come from knowing that you and your family can continue living in your house even though you can't work.



Modify your home or car

. Some critical illnesses—MS, for instance—can take away your mobility. Retrofitting your home or car can restore some of it, but it will be expensive (stair lifts alone can cost $5,000). Doorways may need to be widened to accommodate a wheelchair, and ramps will need to replace steps in some areas of the house. A van that allows wheelchair access to the driver's seat and hand controls could reach $50,000.



Maintaining your lifestyle

. Everyone gets used to a particular way of life. And when a critical illness hampers it, it can cause emotional distress for the whole family. With the payout you'll receive, a critical illness health insurance plan can eliminate any worries about your lost income during a critical illness.
In Summary:
Your family will have peace of mind, and you can concentrate on getting better if you have properly planned for a critical illness. Knowing that insurance has covered your financial needs after a critical illness diagnosis will remove any financial stress and facilitate your recovery.
We Can Help With Any Health Insurance Need

To learn more about Critical Illness Insurance, or for any health insurance need, contact American Insuring Group online or call us at (800) 947-1270 or (610) 775-3848.
We'll research plans from across many competing health insurance providers to find the best insurance policy that meets your needs and your budget.
Call or click today to get started!