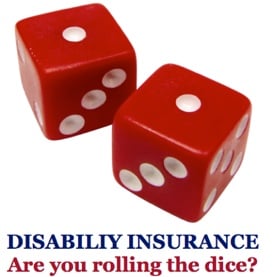 According to a May 2013 report by the non-profit Council for Disability Awareness (CDA), there is a sharp mismatch between the high value employees place on their ability to earn a living vs. their financial preparedness to handle a disability that would threaten their income as evidenced by having adequate levels of disability insurance.
Most are Ignorant of the Real Need for Disability Insurance
The report titled "Disability Divide: Employer Study" is based on a 2012 survey of over 500 human resources professionals. The key findings, as reported by the Insurance Word Blog, are as follows:
¾ of HR professionals surveyed said employees viewed their income-earning ability as their most valuable financial resource, ahead of medical insurance, their homes, and retirement savings. However, only ¼ said employees considered it "very important" to prepare for potential disability, and a similar portion felt their employees were prepared to handle the financial hardships of the loss of income due to illness or injury.
A prior CDA survey of over 1,000 wage earners yielded similar results, with most respondents stating they are most likely to agree with the statement, "I never really thought about" preparing for a potential disability.

The HR experts surveyed generally felt that employees should begin planning for disability early in their careers even though most don't begin until age 40 or older, if ever. According to statistics, approximately 100 million members of the US civilian workforce have no private disability insurance.

Most of the HR experts as well as the wage earners dramatically underestimated the likelihood of incurring a disability during their careers.
Surprising Disability Insurance Statistics
The post goes on to quote some surprising statistics from the CDA's Personal Disability Quotient calculator:
An average 35-year old male office worker who is a non-smoker and has no health history issues has a 13% risk of incurring a long-term disability prior to retirement.


For women with the same profile the risk is higher: 18% or nearly 1 in 5. Those surveyed had estimated their risk at only 1-2%.

The 35-year olds noted above, if earning an average of $50,000 per year, are likely to earn approximately $2.4 million on average by the end of their careers.


Clearly, the contrast between the risk of losing millions in income and the lack of disability insurance is striking!
Key Takeaways
Americans are much less protected against income loss than in the past due to several factors, including:
The relative lack of solid pension plans
Much lower savings rates
Home mortgages with higher balances
Rising college education costs
Given the poor economy, the much greater likelihood of the need to continue to support children beyond their college years
What to do About Disability Insurance
Given these facts, the only wise course of action is to acquire the proper level of disability insurance to cover the gap between your current savings and the funding that would be needed to cover your financial needs during a long-term disability. If you are a business owner, the risks of inadequate disability insurance may be even greater due to the financial consequences of being unable to work.
We're Here to Help if Needed
If you have questions on how to determine the right level of disability insurance you need to protect both you and your loved ones, then please contact us at 610-947-1270, or Contact Us online.