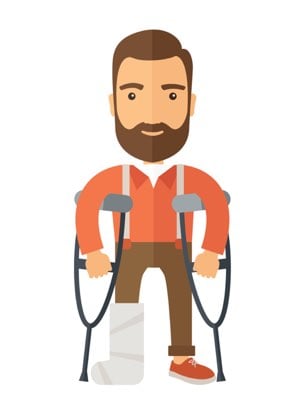 Murphy's Law states that if something can go wrong, it will go wrong, and it's a law that could have been written with the construction industry in mind! There are so many moving parts, activities, and different players all working on a location that has potential hazards around every corner.
So it's essential that you ensure that you have proper construction and contractor insurance coverage to protect your business. Major losses can do more than just set your business back; they can put you out of business.
Here are four guidelines to minimize your contractor insurance losses:
1 - Carefully Inspect All Insurance Certificates
Every subcontractor you hire should provide certificates that prove they have the necessary insurance coverages, but it's also important to thoroughly inspect these certificates, which provide only the bare minimum information such as the carrier and the limits of the insurance.
You should have a broker such as American Insuring Group who specializes in contractors' insurance review all your subcontractors' policies to ensure that there is enough coverage to protect you if that subcontractor causes an injury or damage and a claim is filed.
Subcontractors often try to save money by purchasing the least expensive insurance available, so you may want to require specific coverage limits, types of coverage, and exclusions based on the scope of work the contractor will be performing and the size of the project.
2 - Force Subcontractors to Take Some of the Responsibility
It's always a good idea to have a contract in place that clearly states who is responsible for what before something happens including hold harmless or indemnity agreements to protect you from losses.
In addition, the written contract should state that a subcontractor is responsible for some portion of the deductible if they are in any way responsible for any losses. You can also shift some of your losses onto their insurance policies by requiring them to name your company as an additional insured on their policies.
3 - Consider Wrap-up Insurance
When you work on large-scale projects with dozens of subcontractors, it can become overwhelming to keep track of all the different insurance policies involved. This is a good time to consider purchasing General Liability Wrap-Up Insurance. This type of policy protects the owner, general contractor, and all enrolled subcontractors working on the project.
It can be purchased by either the owner or general contractor and is generally used for residential projects with construction costs starting at $10 million and commercial projects starting at $20 million. Wrap-up Insurance can provide cost savings, better control of insurance coverages, and the peace of mind that your business is appropriately protected in the event of a loss. Additional policies can be purchased for excess liability, professional liability, builder's risk, and pollution liability.
Since the owner or general contractor covers the cost of Wrap-Up Insurance, you can help offset that cost by having subcontractors contribute to the cost of the insurance through bid deductions.
4 - Think Twice About Cost-Cutting Measures
The cost of liability insurance is based on the cost of the project, so it may be tempting to bring the cost of the project down by using cheaper materials. However, it's important to remember that inferior materials can add to your losses because they're more likely to wear out earlier, break, or malfunction in some way. You'll want to weigh the cost savings with the risk.
Working With The Right Insurance Agency is Key - Contact Us Today!
As you know, every project is unique. That's why it's so important to work with an insurance agent who specializes in contractors insurance and knows how to see that you're adequately insured and protected. Give American Insuring Group a call at (610) 775-3848 or (800) 947-1270 or contact us online to speak with one of our contractors' insurance specialists.