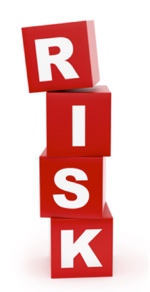 Every small business should conduct a risk management assessment prior to reassessing their business insurance needs – preferably before they even open their doors. Basically, this means imagining the "What ifs" and thinking about worst-case scenarios. Think about any event that could lead to a loss for your business, estimate the cost of that loss, and determine how to best address each risk. These losses may include material losses, liability, business interruption, or injury to employees.
There are several factors that will determine the list of risks to your business. The risks to a company that produces large machinery will be very different from a service business. A caterer who rarely if ever has customers coming to their location will have very similar and – at the same time - very different risks and insurance needs than a restaurant that has customers coming and going all the time. Each business is unique.
Here are 7 types of risk/loss to consider before purchasing or changing your commercial insurance coverage:
Loss of physical assets due to accidents (fires) and nature (floods)
Loss of Intellectual Data
Theft of physical assets
Business liability – customers or employees getting injured on your premises
Business product liability – A product that you manufacture/sell causes injury
Advertising slander or personal injury
Loss of income
How to Deal with business risks and help lower your commercial insurance costs:
Some business risks can be minimized or eliminated with specific actions; many risks are best managed by purchasing commercial insurance. For example, if you're concerned about damage to your property, you could lease the property instead of purchasing it - or you could purchase insurance. If you're concerned about theft, you could install an alarm system to minimize loss, but you would probably want to purchase insurance as well (the alarm system may afford you a discount).
Business insurance can reduce, mitigate or compensate for exposure to business risks. An insurance agency will do a risk assessment to determine how much insurance you need and what you need to cover, and they'll do it at no cost. This assessment might include visiting your business, talking to you about the business or service you provide, reviewing your inventory, and reviewing any procedures to determine all the risks your business could be exposed to. By conducting your own assessment, you can combine your knowledge of your business with your insurance agent's knowledge of insurance to create the best insurance policy to protect your business.
Growth is Good, But ..
As your business grows, so do your liabilities! If you purchase or replace equipment or expanded operations, you should contact your insurance broker to discuss changes in your business and how they can affect your need for expanded insurance coverage. Should disaster strike, you don't want to be caught underinsured.
Getting the Right Business Insurance is Key

For more help creating a risk management assessment and aligning your business insurance needs with your risk, contact American Insuring Group at (800) 947-1270 or (610) 775-3848.