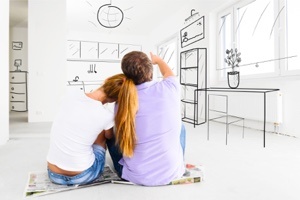 If you own a house, you have homeowners insurance. It's required by the financial institution that holds your mortgage, and even if you don't have a mortgage, you still need the coverage to protect your investment. With the median sales price of existing homes at a current level of $234,900, that's a rather significant investment.
Even though almost every homeowner understands the necessity for homeowners insurance, few are aware of what is typically covered in a standard policy.
There are six areas of protection that make up your homeowners insurance. Make sure your policy has the right balance.
1. Dwelling Coverage
If your house is damaged or destroyed in a covered peril—fire, wind, hail, or lightning—your insurance policy will provide the funds to repair or rebuild it. Keep in mind, however, that floods and earthquakes are not included in this coverage and will require separate polices to protect your property from them.
2. Other Structures
This part of the policy covers what the name implies—any detached buildings on your property. Sheds, workshop, detached garage, and even fences are covered for damage or destruction from any covered peril. Your policy will usually provide 10% of the dwelling coverage as the limit for other structure protection. So, if you have set the cost of rebuilding your home at $200,000, then your other structure coverage will be $20,000.
3. Personal Property
Personal property coverage, sometimes referred to as contents coverage, pays for replacing your possessions that were destroyed in a covered peril. In most policies, the coverage limit is set at 50% to 70% of the dwelling coverage limit. While $100,000 to $140,000 for a $200,000 house might sound like more than enough, you should perform a home inventory to be certain.
4. Loss of Use
If your home is damaged or destroyed, you might have to look for a temporary place to live while repairs are being made. Loss of use coverage will help you maintain your standard of living by providing for hotels, restaurants, and other living expenses when your house is uninhabitable. Loss of use protection is set at 20% of your dwelling coverage limit.
5. Personal Liability
This part of your home insurance policy protects you from lawsuits. Suppose a visiting neighbor falls because of a rotten floorboard on your front porch. Or your usually mild-mannered dog bites the utility meter reader and puts him out of work for a few weeks. You could be subjected to a lawsuit, in which case your coverage would protect you up to the policy limit, generally at least $100,000.
6. Medical Payments
Medical payments insurance, commonly called MedPay, covers the medical costs of someone who is injured on your property and chooses not to sue. In the previous example, your neighbor and the meter reader were injured but this time did not file a lawsuit. Their medical costs were paid because of the MedPay section of your policy.
Keep in mind that medical payments coverage is the only part of your policy whose limits are not determined by your dwelling coverage. It typically pays $1000 per injured person, but you have the option to request a higher limit.
Go Beyond House Insurance Basics: Contact Us for the Right Coverage!

What you have read here is Home Insurance 101. To ensure that you are adequately covered, talk to one of our experts at American Insuring Group. We will help you acquire a homeowner's policy that has the appropriate coverage for your situation at a great price. Contact us online or call us at (800) 947-1270 or (610) 775-3848.