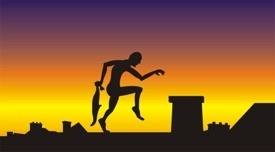 It's every homeowner's worst fear. Imagine… You pull into your driveway after a lovely evening with your spouse and as you approach your front door – key in hand - you see broken glass and notice that the door isn't shut completely. For a few seconds, you're confused. Then, you realize that someone has obviously forced their way into your house. Your heart starts pounding and your mind begins racing. Your home has been burglarized. What do you do now?
You are now a statistic—one of the 3.7 million home burglaries that happen each year. Regardless of how much homeowner's insurance you have you will be angry, anxious, or maybe even panic-stricken. But there are actions you must take to minimize the effects of the burglary…and the order in which you do them is critical.
Call the police and file a report
In the above scenario, it is best to retreat into your car and dial 911. You can't be certain that the burglars aren't still in your house, and you don't want to be the one to confront them. If you're already in the house and certain that the burglars are gone, call the police, but don't touch or disturb anything, as it might be key evidence. When the police arrive, walk through your house and make a list of the items that were taken, and take pictures of any damage that was done during the burglary. Make one copy of the list for your homeowners insurance company and give the other to the police.
Within 24 hours you will need to file a report with the police. This puts the incident on record, which is the first step in filing an insurance claim. The report is also needed in the investigation, and this may lead to apprehending the offenders and recovering your property.
Contact your homeowners insurance company and file a claim
File an insurance claim with your carrier as quickly as possible, while the details are fresh in your mind. The list of stolen and damaged property that you supply should include a value for each item and receipts, if possible. There may be an insurance adjuster assigned to your case, and any documentation--in addition to the police report--will help him or her work through the details. While FBI statistics show that only about 13% of break-ins are solved by law enforcement, filing a well-documented claim should enable you to recoup a fair amount of your loss.
Clean up
Once the burglary has been properly documented, you can clean up. Your emotional healing will begin with the physical act of putting things in order. Remove any appliances or furniture that can no longer be used, clean up anything that has been broken, and repair and paint over any damage to the walls. You might want to consider changing the previous look of a ransacked room by rearranging furniture or painting the walls a different color. All of this can be emotionally challenging, but these are important steps for moving on after a break-in.
Plan for the future
Restoring order to your home, while difficult in itself, is easier than restoring your sense of security. Being burglarized causes emotional trauma, and being proactive about your future can help you recover. Here are some of the steps you can take:
Buy or upgrade door and window locks
Install motion-sensitive lights outside your doors
Put your lights on timers, both inside and outside
Consider a home security system with alarm monitoring—the system should include door and window alarms along with motion detectors
Having the Right Homeowner's Insurance Helps Your Peace of Mind

To ensure that your valuables are properly protected in the event of a home burglary, click here to contact us, or give us a call at (800) 947-1270 or (610) 775-3848 to review your homeowner's insurance policy.