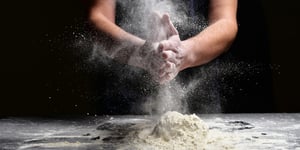 Michael E. Gerber wrote a book called The E-Myth Revisited: Why Most Small Businesses Don't Work and What to do About it. In the book, Gerber introduces us to Sarah, a young woman who starts a bakery business to sell the pies that she loves to bake. Sarah is struggling. She's working twelve hours a day and becoming frustrated and completely burnt out.
Gerber tells her it's because she's working "in" her business rather than "on" her business. She's so busy baking pies, serving customers, cleaning the shop, etc. she doesn't have time for vital business tasks, such as strategizing, marketing, etc.
The bottom line is that if you aren't taking time to figure out how to run your business efficiently, how to grow it, and how to protect it, your business will fail. As an insurance broker, American Insuring Group is focused on helping restaurant owners - including bakery shop owners – protect their businesses with the right Restaurant Insurance.
What Types of Restaurant Insurance Does a Bakery Need?
The best way to determine what types of insurance you need is to think about your risks. Go through "what-if" scenarios. For example, what if there's a fire in my kitchen, and I have to shut down. How will I pay for the repairs? Can I survive with no income while the repairs are made?
What if my delivery truck breaks down? What if… you get the idea. This exercise will help you determine your risks, so you can learn the best way to protect your bakery from those risks.
An experienced insurance agent can help you determine your risks, what you need to protect, and the most economical way to do that. Here is a list of the most common types of restaurant insurance bakeries need.
Commercial General Liability (CGL) Insurance
CGL Insurance helps cover customer injuries that occur at your bakery, customer property damage, and libel or slander lawsuits. For example, a customer trips and falls while picking up his morning bagels and is injured. You may be responsible for paying his medical bills, and there is always the possibility that he will file a lawsuit against you.
Another example would be if someone were to get sick from eating something they purchased at your bakery. Unfortunately, even if the illness was caused by an ingredient that you bought from someone else, most attorneys will name everyone involved (included the baker) in a lawsuit. Most CGL policies include compensation for third-party claims of injury, illness, disease, or death that was caused by food contamination or food borne illness claims.
Commercial Property Insurance
Going back to the "what-if" scenario, if there is a fire in your kitchen, a Commercial Property Insurance policy will help pay for repairs to your equipment and property. Typically, Commercial Property Insurance covers risks such as fire, power outages, theft, etc.
You can expand your coverage to include Business Interruption Insurance that would help pay for lost revenue or sales that would occur while your bakery is closed for repairs.
Business Owner's Policy (BOP)
A BOP combines CGL and Commercial Property Insurance and helps lower your insurance costs.
Workers' Compensation Insurance
In Pennsylvania, almost all businesses with one or more employees are required by law to have Workers' Compensation (WC) Insurance. WC helps pay for medical expenses and lost wages if an employee is injured on the job and protects the employer against accident-related lawsuits by injured employees.
Commercial Vehicle Insurance
If you have a vehicle that you use for business purposes – such as making deliveries, you need Commercial Vehicle Insurance. It covers medical costs and property damage that result in an accident that involves your vehicle.
How Can a Bakery Minimize the Cost of Insurance?
If you've decided to work on your business rather than just in your business, you need to take steps to protect your business. The American Insuring Group has agents who specialize in Restaurant Insurance to help you determine your risks and the best way to protect your business. Plus, as independent agents, we compare the cost of your coverage with several insurance companies to ensure you get the best price for that coverage.
Give us a call today at (800) 947-1270 or (610) 775-3848 or connect with us online.