Don't shoot yourself in the foot - consider your concealed weapons policy!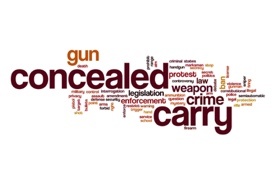 As a small business owner who allows customers and visitors on your property, you assume the responsibility of providing a reasonably safe environment for them. This responsibility includes warning them about any concealed dangerous conditions. In states with "concealed carry" laws, you might need to post warnings that your sales clerks are armed.
But what if one of your employees, legally carrying a concealed weapon, negligently (or deliberately) shoots a customer who is on the premises conducting business, and the client subsequently sues you for the injuries? Will your Commercial General Liability Insurance (CGL) policy cover this incident?
Obviously, you would have to be found legally responsible for the injuries for the CGL to pay. And, while your liability might be debatable, you will be brought into any lawsuit by the injured customer. At that point, your insurer will be compelled to defend you unless there is some clear-cut exclusion in the general liability policy that would apply to the shooting occurrence. And that's not likely.
What's the right policy for minimizing risk and protecting employees and customers?
Even though it's probable that your business liability insurance policy will cover you against such claims, it could be a smart move to minimize this type of risk by being pro-active. For instance, requesting an exemption from the scope of the concealed-weapon law will give you the authority to ban weapons in the workplace. Make it your company's policy for all present and future employees that guns are not allowed on the premises. That would eliminate the possibility of a lawsuit…wouldn't it?
What if your employee is attacked?
Think about your employee being attacked and beaten at work after you have forbidden him from carrying a weapon. Looking at this from his perspective, couldn't that employee file suit claiming that he was unable to defend himself because of your weapons ban? The injured worker could assert that he sustained a bodily injury and that you, as his employer, are legally responsible for those injuries.
The workers' compensation exclusion and the employers' liability exclusion in the general liability policy would need to be considered, but if the injury to the employee is not work-related - in other words, not arising out of and in the course of employment - the exclusions won't apply. In that case, your general liability policy would respond with a defense since there is no exclusion in the policy to prevent such a response. But, of course, the duty to pay the claim would depend on your liability being established in a court of law.
Suppose you don't ban weapons and one employee shoots another?
If one of your staff carries a concealed weapon to work and shoots a fellow employee, and it results in a claim against you, will an insurance policy provide coverage? Once again, the first thing to consider is workers compensation. CGL does not apply to any of your obligations under a workers' comp law, or to bodily injury to one of your employees arising "out of and in the course of employment."
If the shooting injury did not arise out of the employment, the general liability policy would respond to a claim against you, but if the injury arose out of the employment, you could look to workers' compensation for coverage. But what exactly is "out of and in the course of employment"? State workers' comp laws have yet to define this. It may have to fall to the courts to make this determination.
Properly screen employees during the hiring process
The list of potential problems that concealed weapon laws pose for you as an employer is quite long. Good risk management calls for preemptive actions. Banning weapons from your premises is a good start. And instituting hiring practices (pre-employment screenings, etc.) that yield levelheaded employees who won't resort to violence to settle disputes is also necessary. All business owners can learn to live with concealed weapons laws, but none can afford to ignore them.
Contact Us for Your Commerical Liability Insurance Needs

To learn more about Commercial General Liability Insurance, contact American Insuring Group online or call us at (800) 947-1270 or (610) 775-3848. As an independent insurance agency, we'll compare pricing and coverage among many competing carriers to get you the right commercial insurance at the right price. Contact us today!