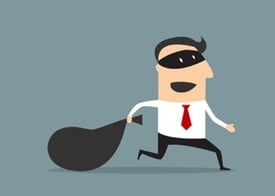 While business insurance is your safety net for financial loss from theft, it's better to minimize the chance of your business becoming a victim of theft in the first place.
Unfortunately, most businesses become victims of theft at some point. In fact, the most serious thefts can drive them out of existence.
Business owners and their managers need to first acknowledge that it can happen and then take the necessary steps to prevent it…or at least to minimize the loss.
Insuring Against Four Types of Theft
There are four types of theft: burglary, robbery, theft by employees, and identity theft. Each of these has its own set of challenges and preventive measures. Check with your independent insurance agent to be sure your commercial insurance coverage adequately protects you against each of these categories of business theft.
#1. Insuring Against Burglary:
Unlawful Entry with Intent to Steal
Burglars enter your business when no one is there. They mainly target your cash, merchandise and equipment, but they may also commit a host of other felonies.
Thieves like to work in the dark, so visibility is your first line of defense here. Bright interior lights deter illegal entry, especially if your building can be seen from the street. Exterior lights, protected with metal cages, may discourage them from approaching at all. This is a good start, but there are other equally important steps you can take to prevent a break-in:
An alarm system with motion detectors
Steel doors with dead bolt locks
A see-through fence (i.e., chain link)
Windows with safety glass and locks
Padlocks on overhead doors
#2. Insuring Against Robbery:
Taking Cash or Valuables from a Person
If your business deals in cash or smaller valuables, you are susceptible to being robbed. This could happen either by force or the threat of force. To keep it from happening at all, there are things you can look for and actions you should take:
Keep cash to a minimum
Post signs indicating the maximum amount of cash on the premises
Be alert – look for signs of danger
Recognize potential hiding places near your business
Provide bright lights and good visibility to deter robbers
Being robbed will be traumatic. Your managers and employees need to be trained to react properly if all preventive measures fail. Here are some guidelines to remember during and immediately after a robbery:
Cooperate with the robber
Obey orders quickly
Don't argue or fight
Don't use a weapon
Don't chase or follow the robber
Call the police
#3. Insuring Against Employee Theft:
An Insidious Crime
Business owners don't want to believe that a trusted employee is stealing from them. As a result, most of this theft goes undetected. It is estimated that businesses may be losing as much as forty billion dollars each year to this crime. It is crucial that you work with your accountants regularly to spot the following signs:
Changes in sales and inventory without a corresponding increase in profits or cash flow
Shipping records that are not consistent with inventory
Unauthorized changes in paperwork or established procedures
As a business owner, you need to be aware that loyal employees may steal, as do well-paid executives and workers who have been with you for many years. Encourage all employees to report their suspicions and concerns. Tell them what to report and how to do it. Work diligently with your accounting staff to catch inconsistencies early.
#4. Insuring Against Identity Theft:
Not Just a Consumer Problem
Business identity theft is growing, and the consequences are enormous. It affects your entire business, including employees, customers, and suppliers. Identity thieves can tap into your credit lines, change your contact information, then order supplies or obtain credit cards. They can also go after your customers. Defend against them by doing the following:
Securely lock up any paper data and shred it when it's outdated
Make sure networks are password protected and have a firewall
Install security software on any mobile devices that contain confidential company data
Protect Your Business From Theft - Get the Right Commercial Insurance

If, in spite of all these measures, your business is still a victim of theft, the right business insurance can help.
Don't wait until your business takes a hit. Be proactive: Call American Insuring Group at (800) 947-1270 or (610) 775-3848, or click here to contact us.