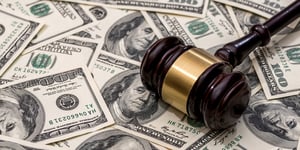 Most employers in Pennsylvania are required to have Workers' Compensation (WC) Insurance. Failure to carry adequate WC can result in civil and criminal penalties. Therefore, employers must understand their WC obligations. Here's what you need to know...
What is Workers' Compensation?
The Pennsylvania Department of Labor & Industry defines Workers' Compensation as "mandatory, employer-financed, no-fault insurance which ensures that employees disabled due to a work-related injury or disease will be compensated for lost wages and provides necessary medical treatment to return them to the workforce."
The goals of WC are simple:
safer workplaces

prompt treatment and compensation for work-related injuries and illnesses

reduced litigation costs
With only a few exceptions, Worker's Compensation insurance is mandatory for any employer in Pennsylvania who employs at least one employee. If ALL workers employed by that employer fall into one or more of the following categories, they may be excluded from mandatory WC. This is a general list, minus the fine print.
Federal workers

Longshoremen

Railroad workers

Casual workers

Persons who work out of their own homes or other premises not under the control or management of the enterprise AND make up, clean, wash, alter, ornament, finish, repair, or adapt articles or materials for sale that are given to them.

Agricultural laborers making less than $1200 per year

Domestic workers who have not elected to come under the provisions of the WC Act (they must notify the Department of Labor & Industry)

Sole proprietor or general partners with no other employees

People granted exceptions due to religious beliefs

LLC's in which only the employees are members of the LLC

Executive officers who have been given an exclusion

Licensed real estate salespersons or associate real estate brokers
Workmen's Compensation rules for independent contractors can be complicated. Merely referring to someone as an independent contractor doesn't mean the Department of Labor & Industry will agree. Here are a few factors that may indicate an individual is not an independent contractor but an employee.
The individual…
Performs duties assigned by the employer

Works hours set by the employer

Uses tools, equipment, or materials that the employer provides
The bottom-line is… before you assume your employees are exempt from Workers' Compensation Insurance, check with your insurance agent or the Department of Labor & Industry or risk facing civil or criminal penalties.
According to the National Academy of Social Insurance, the estimated cost of WC Insurance in Pennsylvania is $1.34 per $100 covered in payroll.
Filing a Workers' Compensation Claim
Employers are required to report all injuries to their insurer or program - in the case of a self-insured employer - the person responsible for managing their WC.
Employers are also required to submit a First Report of Injury to the Bureau of Workers' Compensation within seven days if the injury results in the loss of one or more day, shift, or turn of work. If the injury results in death, the employer must file a First Report with the Bureau within 48 hours. The injured workers and the employer's insurer should also receive copies of the First Report.
Penalties for Non-Compliance
Refusing to file a Workers' Compensation claim on behalf of an employee is against the law.
If an employee is injured, and the employer does not have WC insurance, the Uninsured Employers Guaranty Fund will pay the employee's benefits. The employer will be required to reimburse the fund, including costs, interest, penalties, and other fees.
Injured employees covered under WC insurance have very limited ability to sue their employers. However, that is not the case when the employer fails to carry WC insurance. Employers without WC are open to litigation for workplace injuries and illnesses. And often, the damages awarded are higher than what the employer would have paid for WC insurance.
Employers who fail to maintain WC coverage could be found guilty of a misdemeanor, which carries a fine of up to $2,500 and up to one year in jail. If the courts decide the failure to comply was intentional, the employer could be facing a felony charge that carries a fine of up to $15,000 and up to seven years in jail.
Getting the Right Workers' Compensation Insurance
American Insuring Group specializes in Workers' Compensation Insurance. We can help you determine 1) whether or not your business is required to carry WC and 2) how you can get the best price on quality insurance protection if it is needed. Call us today at (800) 947-1270 or (610) 775-3848 or connect with us online.