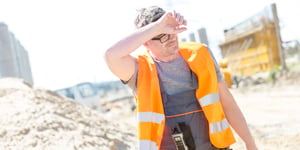 The construction industry is notorious for being filled with potential hazards that cost construction companies billions of dollars in higher Contractor Insurance premiums. Common hazards include falling from heights, electric shock, scaffolding collapse, etc., but have you ever considered the hazards of working outside.
On a beautiful spring or fall day, working outside seems like a real blessing – definitely better than being stuck inside an office or manufacturing facility. But working outside does pose additional health risks that can cause everything from mild discomfort to severe injuries and even death.
Understanding these dangers and how to prevent them, are essential if you want to keep your workers safe and your expenses down. Here is a list of outdoor hazards that you should be aware of and train your employees to avoid.
Lyme Disease
Hazard:
According to the Centers for Disease Control and Prevention, Pennsylvania has had the highest number of Lyme disease cases in the U.S. since 2011.
"Untreated, Lyme disease can spread to other parts of your body for several months to years after infection, causing arthritis and nervous system problems," according to the Mayo Clinic. Plus, ticks can transmit other illnesses, such as babesiosis and Colorado tick fever.
Prevention:
Ticks are most active between April and September. During those months, try to avoid wooded and bushy areas, use repellents that contain 20 to 30% DEET, and use products that contain permethrin on clothing.
Sun Exposure
Hazard:
One of the best things about regularly working outside is a killer tan. Unfortunately, the same thing that creates that tan can also cause skin cancer.
According to the Skin Cancer Foundation, "about 86 percent of melanomas can be attributed to exposure to ultraviolet (UV) radiation from the sun," and "about 90 percent of nonmelanoma skin cancers are associated with exposure to ultraviolet (UV) radiation from the sun."
Prevention:
Use a broad-spectrum sunscreen with at least a 15 SPF before going outside, even on cloudy or cool days, and reapply regularly, especially if you are sweating. Check the SPF's expiration date. Wear clothing that covers as much skin as possible as it acts as a barrier against UV rays.
Insect Stings and Bites
Hazard:
In Pennsylvania, people working outside need to watch out for stings from insects such as bees, wasps, and hornets, and bites from both venomous and non-venomous spiders. While most insect stings and bites only cause mild discomfort, some can result in a severe allergic reaction that requires immediate medical attention and can even cause death.
Prevention:
Try to avoid attracting insects by staying away from strong-smelling products, such as colognes and some soaps, shampoos, and deodorants. Wear clothing that covers as much of the body as possible. Try to ignore and not swat at a single flying insect, but if attacked by several stinging insects, run away from them.
Any workers who know they are prone to severe allergic reactions from insect bites or stings should wear medical ID jewelry and carry an epinephrine pen.
Poisonous Plants
Hazard:
If you come in contact with plants, such as poison ivy, poison oak, and poison sumac, the urushiol oil from those plants can cause an itchy rash, bumps, or blisters. For some, the rash can be relatively minor, but for others, it can cause severe swelling or trouble breathing or swallowing.
Prevention:
Wear clothing that covers as much of the body as possible, learn to identify poisonous plants, clean tools and clothing that may have been exposed to the oil, and immediately wash skin exposed to the oil with soap and water.
Extreme Temperatures
Hazard:
Both heat and cold stress can cause health issues that range from slight discomfort to death. Heat stress disorders include heat exhaustion, heatstroke, heat cramps, heat rash, and fainting.
Several factors contribute to the dangers of cold stress: temperature, wind, dampness, and cold water. Cold stress can occur in mild temperatures that are coupled with rain and/or wind. Cold-related illnesses include hypothermia, frostbite, and trench foot.
Prevention:
Reduce heat exposure by ventilating areas of high heat and use cooling fans and personal cooling devices (cooling vests, heat reflective clothing, etc.). Wear loose-fitting, lightweight clothing, drink plenty of liquids, and try to schedule heavy work during cooler parts of the day.
When working in frigid climates, prevent cold stress by wearing at least three layers of clothing. Wear a hat, insulated boots, and insulated gloves.
Lower Contractors Insurance Costs the Easy Way!
Preventing these outdoor dangers can help lower your Contractors Insurance costs. Another way to lower your insurance premiums is to work with one of the independent agents at the American Insuring Group.
We will compare costs and coverages among many insurance providers, and find the best combination of protection and price to meet your needs. So call today at (800) 947-1270 or (610) 775-3848 or connect with us online to start saving!