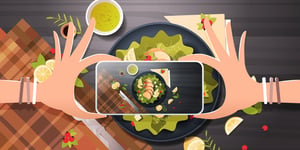 Savvy restaurant owners understand the importance of Restaurant Insurance to protect them from risks, such as lawsuits and property damage. However, many forget to protect their businesses from the risks associated with social media.
Social media platforms like YouTube, Facebook, Twitter, etc. offer many benefits – building brand awareness, engaging customers, soliciting feedback, keeping customers informed, etc. – but they also come with risks.
Here are some of the risks every restaurant owner or manager should consider and some tips to mitigate those risks.
Social Media Risks
Here are a few of the more common social media risks; however, it is by no means all-encompassing. You should assess the potential risks to your restaurant and take action to avoid them.
Data Breaches
Norton defines a data breach as "a security incident in which information is accessed without authorization." In 2019, there were 2,013 confirmed data breaches, and it cost businesses over $2 trillion, according to Varonis. Experts predict that number will increase to $6 trillion annually by 2021.
Facebook is currently the most popular social media platform, with more than two billion users. In 2019, Facebook admitted that it had not properly secured the passwords of as many as 600 million users since 2012. In 2019, Facebook had 540 million user records exposed on the Amazon cloud server, and over 267 million Facebook usernames, Facebook IDs, and phone numbers were exposed in 2019.
Cybercriminals will try to access information on your computer any way they can, including weaknesses on social media platforms.
Loss of Reputation
Information – both accurate and false – can spread like wildfire on social media platforms, and a restaurant's reputation can be damaged or destroyed just as quickly. The damage can be intentional or accidental, and it can come from a customer, an employee, or even the restaurant itself.
A customer can post a negative review. An employee can post something inappropriate about your restaurant on their profile. You can inadvertently post something that damages your restaurant's reputation.
Brand Hijacking
Brand hijacking (or brandjacking) occurs when a third-party acquires or assumes your online identity in an attempt to ruin your reputation or to steal customers or potential customers. While the primary objective of brand hijacking may not be financial, it will most likely result in some kind of financial loss to your restaurant.
Liability Issues
Sometimes social media mistakes – Aka "advertising injuries" - can lead to lawsuits. For example, you could be sued for posting copyrighted content without permission, posting content that defames someone or something, posting someone else's words or likeness without their permission, or copying someone else's advertising.
How to Mitigate Risk
You can't eliminate risks associated with social media platforms, but you can minimize them with these tips.
Create a Social Media Policy
Create a policy that clearly defines what employees can and cannot do on every social media platform. Share guidelines, best practices, and posting procedures. Include information about creating a secure password, avoiding spam and phishing attacks, acceptable types of content, etc.
Limit Social Media Access
Don't grant every employee in your restaurant access to your restaurant's page. You'll probably have more posts, but you also open yourself up to more risks. Put one person in charge of social media posts who has been trained and educated on social media best practices. Consider how much access you allow other employees and track who has access to what.
Train Your employees
Ensure anyone who has access to posting on your restaurant's page has proper training, including what they can and can't share, how to utilize tools to ensure security, how to recognize unsafe links, etc.
Talk to Your Employees
You can't always control what your employees say on their personal social media platforms, but talk to them about the risks social media can pose to your restaurant and how to avoid those risks. And ensure they understand your restaurant's social media policy.
Secure Your Technology
Ensure that any computer used by employees to post on social media is armed with adequate security software that continually checks for malware, viruses, and other cyber risks.
Restaurant Insurance Can be Your Safety Net!
When all else fails, the right insurance will act as a safety net to protect your restaurant. The independent agents at the American Insuring Group can help you get the right insurance for your restaurant at the best price by comparing the costs of your insurance among many insurance companies. Give us a call today at (800) 947-1270 or (610) 775-3848 or connect with us online.