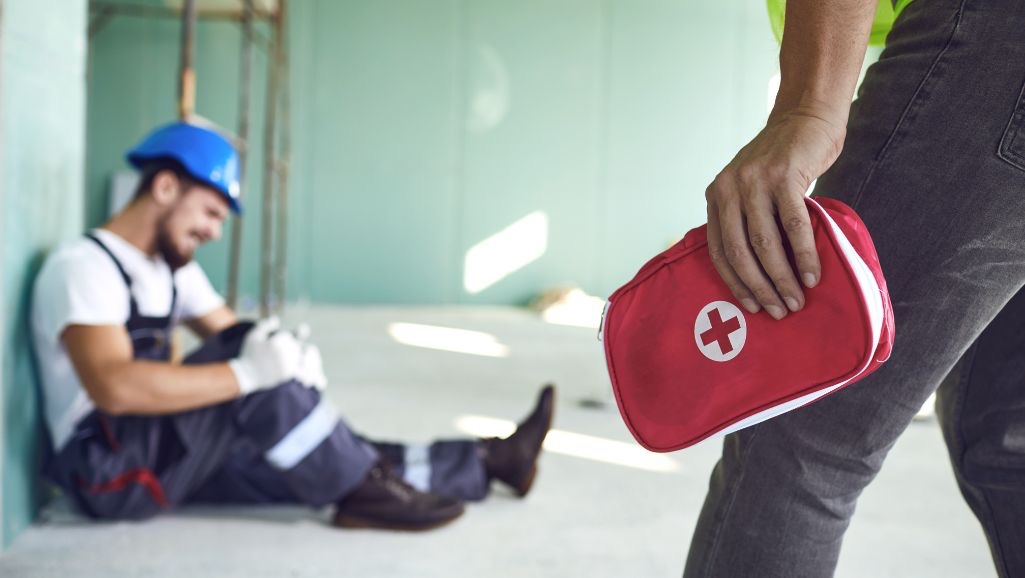 Creating a safer worksite is every employer's responsibility and one of the best ways to save on Contractor Insurance. At a minimum, you should follow all Occupational Safety and Health Administration (OSHA) safety standards to avoid penalties and minimize the risk of injury. However, construction worksites are hazardous by nature, and injuries are always possible.
One of OSHA's safety standards is medical and first aid to help ensure that injured employees receive the best medical care as quickly as possible. "First aid refers to medical attention that is usually administered immediately after the injury occurs and at the location where it occurred. It often consists of a one-time, short-term treatment and requires little technology or training to administer," OSHA states. "First aid can include cleaning minor cuts, scrapes, or scratches; treating a minor burn; applying bandages and dressings; the use of non-prescription medicine; draining blisters; removing debris from the eyes; massage; and drinking fluids to relieve heat stress."
First Aid Assessment
Every job site is different; therefore, every site should be assessed to ensure proper first aid is available. First, identify and mitigate potential hazards. At the same time, identify the types of injuries possible and the first aid that may be required for those injuries. Develop your first aid program based on that assessment and OSHA's standards and regulations. Continue to reassess throughout the project as job sites, conditions, hazards, and first aid needs can change.
First Aid Training
OSHA states. "In the absence of an infirmary, clinic, hospital, or physician that is reasonably accessible in terms of time and distance to the worksite, which is available for the treatment of injured employees, a person who has a valid certificate in first-aid training from the U.S. Bureau of Mines, the American Red Cross, or equivalent training that can be verified by documentary evidence, shall be available at the worksite to render first aid."
But what is considered "reasonably accessible in terms of time and distance to worksite"? "Medical literature establishes that, for serious injuries such as those involving stopped breathing, cardiac arrest, or uncontrolled bleeding, first aid treatment must be provided within the first few minutes to avoid permanent medical impairment or death," OSHA states. "Accordingly, in workplaces where serious accidents such as those involving falls, suffocation, electrocution, or amputation are possible, emergency medical services must be available within 3-4 minutes…"
One way to ensure that you follow OSHA's standards and provide prompt medical attention for injured employees is to have at least one employee trained in first aid on each worksite (regardless of the location of the closest medical facility). That training should include basic first aid, CPR, and the use of an automated external defibrillator (AED). Additional training may be required depending on your assessment of potential injuries on the worksite. And don't forget to have those individuals recertified as needed.
In addition to at least one worker trained in first aid, all workers should understand their role in worksite first aid. They should understand the hazards and potential injuries. They should also know the protocol if someone is injured and requires first aid, including who to contact, where to find that person, how to explain their location, and where first aid kits and emergency equipment are located. And finally, they should know not to administer first aid themselves unless they are trained because they could cause more harm than good.
First Aid Kits
What good is someone trained in first aid if they don't have the tools and supplies they need to treat an injured worker? One or more first aid kits should be readily available on every worksite. The contents of that first aid kit should be based on the first aid assessment and the worksite size. OSHA's recommendation for "the minimally acceptable number and type of first-aid supplies for first-aid kits" for a small worksite of two or three workers includes the following:
Gauze pads (at least 4 x 4 inches).
Two large gauze pads (at least 8 x 10 inches).
Box adhesive bandages (band-aids).
One package gauze roller bandage at least 2 inches wide.
Two triangular bandages.
Wound cleaning agent such as sealed moistened towelettes.
Scissors.
At least one blanket.
Tweezers.
Adhesive tape.
Latex gloves.
Resuscitation equipment such as a resuscitation bag, airway, or pocket mask.
Two elastic wraps.
Splint.
Directions for requesting emergency assistance.
Lower Your Contractor Insurance Bill the Easy Way
Keeping workers as safe as possible and ensuring proper medical treatment is available is a smart business move.
So is working with the experienced independent agents at American Insuring Group. We will perform an in-depth review of your business to ensure you have the right contractor or construction insurance and compare the cost of that insurance among many competing carriers to ensure you get the best price for the right coverage!
Call us today at (800) 947-1270 or (610) 775-3848, or connect with us online.