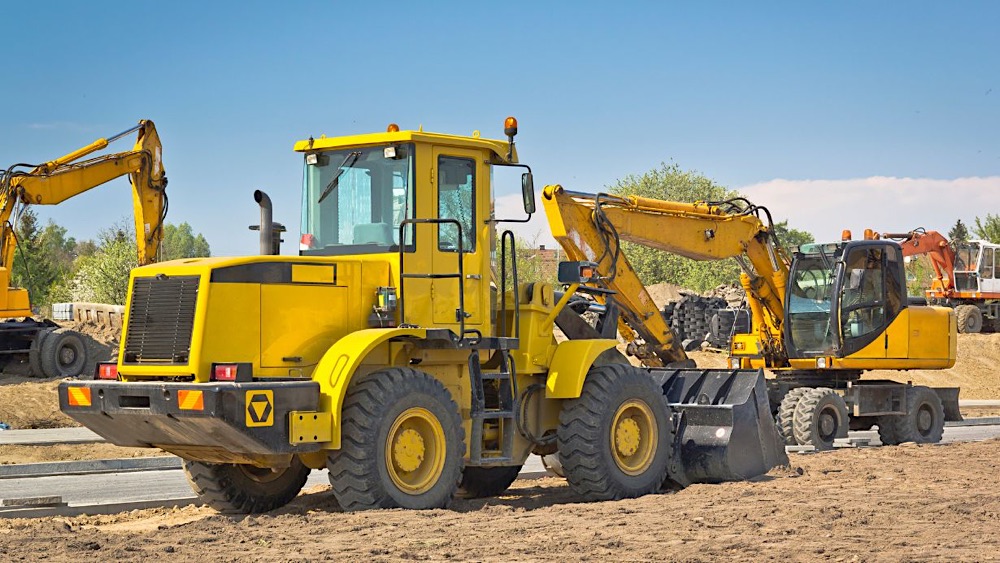 One of the most effective ways to lower Contractors Insurance costs is to reduce the number of claims. But unfortunately, construction sites are filled with hazards that cause injuries. In 2020, there were 165,300 injuries in construction, according to the U.S. Bureau of Labor Statistics (BLS), and the highest number of fatal work injuries (1,008) in any industry.
One of the biggest causes of injuries in the construction industry is heavy equipment – boom lifts, backhoe loaders, bulldozers, etc. - which are, of course, an essential part of just about any worksite. According to OSHA, "Approximately 75% of struck-by fatalities involve heavy equipment such as trucks or cranes." OSHA also reports that "being struck by vehicles, heavy equipment, and other objects is the top cause of injuries and the second cause of death for construction workers."
Heavy equipment accidents, such as the following, can cause lacerations, crushed or broken bones, spinal cord damage, internal damage, and more:
Being pinned and/or crushed under heavy equipment

Falling off heavy equipment

Being struck by heavy equipment

Rollover accidents

Being run over or backed over by heavy equipment

Being caught between two pieces of heavy equipment
Heavy Equipment Safety Tips
When you work with or around heavy equipment every day, it's easy to become complacent, but everyone – operators and ground workers - should be alert wherever heavy equipment is used. Most construction site accidents can be avoided with these tips:
Owners/Managers Safety Tips
Only allow trained (and, where required, certified) equipment operators

Provide safety training

Provide an operating manual to the operator

Provide spotters where needed

Install rollover protection on equipment

Ensure good communication, such as standardized hand signals

Maintain equipment

Provide Personal Protective Equipment (PPE) where needed

Provide proper lighting when appropriate
Operators Safety Tips
Be familiar with the equipment

Do not make sudden or sharp turns or swings

Honk at intersections

Wear seat belts

Wear appropriate Personal Protective Equipment (PPE

Do not jump on or off of the equipment

Understand the company's policy on the right-of-way

Inspect equipment before using

Inspect the ground conditions, looking for holes, uneven surfaces, obstructions, etc.

Work in well-lit areas

Avoid working parallel to slopes or embankments

Do not overload vehicles

Only ride in approved seats

Stay alert
Ground Worker Safety Tips
Wear high-visibility clothing

Do not stay in equipment blind spots

Avoid working near heavy equipment

Ensure that the operator sees you before approaching them
Crane Safety Tips
The Construction Center of Excellence reports that approximately 82 deaths occur every year due to crane accidents at construction sites and offers these safety tips specific to cranes, such as mobile, overhead, gantry, and jib cranes:
Know load limitations and the weight of the load to be lifted.

Evaluate the center of gravity of the load when attaching the rigging.

Ensure rigging and cribbing is adequate to support the crane and the load.

Understand the reach and travel limits of the crane before moving the load to avoid extra handling, sudden stops, and uncontrolled load swings.

Ensure the crane is able to move the load without tipping.

Inspect ground conditions, outriggers, and weather before lifting a load.
5 Backup Safety Tips
The Construction Center of Excellence reports that "one out of four accidents occur because of bad backing-up techniques and procedures." The report also states that backing-up accidents account for 500 deaths and 1,500 injuries annually. (2014 study)" Here are backup safety tips.
Inspect your vehicle and identify potential overhead or underground hazards

Identify blind spots

Work with a spotter when appropriate

Watch your speed

Identify overhead and underneath obstructions (powerlines, trees, trenches)
Lower Contractor's Insurance Costs the Quick and Easy Way
Want to learn more about how to lower the cost of your Contractors Insurance? Call American Insuring Group at (800) 947-1270 or (610) 775-3848 or connect with us online. We specialize in Contractors Insurance and understand the unique challenges and needs of the industry.
We'll compare competing insurance providers to find you the coverage you need at a great price!