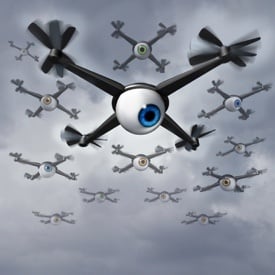 Look! Up at the sky! It's a bird! It's a plane! No, it's a drone! And it's coming to a neighborhood near you. The Consumer Electronics Association estimates that consumer drone purchases this year will put 300,000 more recreational drones in the skies. And while many consumers are now eyeing these unmanned, remote-controlled aerial toys as one of their next purchases, they don't necessarily want their neighbors to buy one. Furthermore, few consider whether their homeowners insurance will cover them for drone-related accidents.
Drone safety and privacy issues
With the possibility that a drone could crash-land into a car or injure a child or pet, there's little wonder that a recent survey by a property-casualty insurer revealed a good deal of concern about hobby drones:
Three quarters of respondents were concerned that an unmanned drone could crash into their house.
Half believed that a drone was likely to injure someone
Half thought the aircraft might be able to hack into a wireless network
A full sixty percent feared that drones would take unauthorized photos of family members
And a third of them believed that drones could somehow steal their possessions
Check your homeowners insurance policy to be sure you're protected
While the Federal Aviation Administration worries about the threat that personal drones pose to private and commercial aircraft, the insurance industry is concerned about their potential effect on home insurance. As more drones are sent skyward, there will be a commensurate increase in claims against their owners for accidents that cause personal injury and property damage. Many insurers worry that they will see a significant increase in recreational operators seeking coverage under existing homeowners' insurance policies. But will the drone operators' homeowners' insurance cover damages?
The quick answer: probably. While the standard homeowners' policy provides coverage for damages that the insured becomes legally obligated to pay for bodily injury or property damage, this coverage may be limited by policy exclusions. One of those exclusions is coverage for injuries or damage caused by the ownership, use, or maintenance of aircraft. "Aircraft" refers to any apparatus used or designed for flight, except model or hobby aircraft not used or designed to carry people or cargo. Many insurers, however, don't make this exception for hobby aircraft. Since there are substantial differences in policy wording, one cannot assume coverage for drone use.
Business usage and intentional acts exclusions
Domino's is hoping to have drones deliver pizzas in the near future, and Amazon is testing them for deliveries as well. Agents are taking aerial photos for real estate listings, and home insurers are using drones for everything from underwriting to documenting damage from natural disasters. But keep in mind that none of these business applications will likely be covered under a personal homeowners' policy, because those policies usually exclude business activities.
Homeowners' insurance policies also often exclude coverage for intentional acts. And it can be difficult to separate the intentional from the accidental in drone incidents. If a local jurisdiction deems invasion of privacy to be an intentional act, any claims against you may not be paid if your policy specifically excludes intentional acts.
Drone operators need to look closely at the commercial-usage, "aircraft" and intentional-acts exclusions of their homeowners' policy prior to liftoff. As with all insurance, the availability of coverage depends on the policy's specific language – including the definitions, the exclusions, the exceptions to the exclusions and other conditions.
Questions about drones and homeowners insurance? Call us!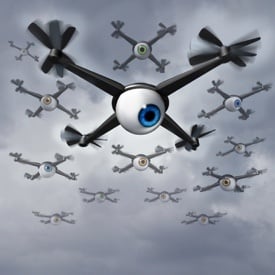 Before you send that new recreational drone on its maiden flight, contact American Insuring Group or call us at (800) 947-1270 or (610) 775-3848 to be sure that you are fully protected.
Our independent agents represent a multitude of competing insurance providers, so we're well equipped to find you the right insurance at the right price, so contact us today.