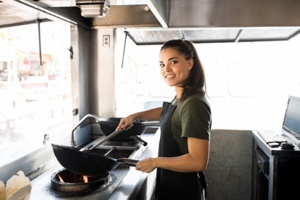 In 2015, the food truck industry was valued at $856.7 million, and it is expected to grow to $996.2 million by 2020. There are many reasons for this growth including the seemingly easy entry into the restaurant business that it provides.
Low Start Up Costs
You can purchase a food truck for as little as a few thousand dollars, but like any business, it's imperative that you protect your assets and your business. One way to protect both is with the right insurance.
Insuring a food truck can be a little tricky because it has many of the risks associated with commercial vehicles as well as those associated with restaurant insurance, not to mention all the risks that all businesses face, plus a few that are unique to the food truck industry.
4 Unique Risks
For example, it is more difficult to regulate temperatures on a food truck, which can increase the risk of food contamination and food poisoning. Plus, the small food prep area in food trucks create a greater chance of accidentally exposing customerswith food allergies to allergens. Slip and fall injuries can occur both inside and outside of a food truck, and trucks can be easier to break into than brick-and-mortar restaurants.
Another consideration is Workers Compensation Insurance. In Pennsylvania, It is required for most – but not all - businesses with employeesto have WC insurance. If you fall into the "not all" category, you may be tempted to forego WC coverage to "save money." But kitchens can be dangerous places where injuries can happen, and medical bills can quickly add up to significantly more than the money you saved.
Don't Skimp on Insurance
It may be tempting to try to save money by only purchasing the minimum insurance required by law or by the venue where you park your truck, but that minimum may not be enough to protect your business.
For example, many festivals require a minimum $1 million in general liability coverage. You can purchase liability insurance to cover just that event, but then you leave your business open to risks when it's not at the event. Plus, buying insurance on an event-by-event basis can be significantly more expensive than purchasing it on a yearly basis.
If you keep the big picture in mind when purchasing insurance for your food truck, you allow your business the flexibility and freedom it may need to grow along with the protection you need to stay in business.
To ensure that you have the proper protection, it is best to consult with an independent insurance agent who specializes in food truck and restaurant insurance. We can help determine any mandated minimum insurance requirements along with any additional risks your business may face.
Here are some of the types of insurance to consider for your food truck business:
1 - General Liability Insurance
This insurance protects your business from lawsuits or claims made by third parties including physical injury, property damage, and legal fees.
2 - Commercial Auto Insurance
This insurance helps cover risks while you are driving your food truck. If you are in an auto accident, it helps cover the cost of medical, repair, and legal expenses.
3 - Business Owner's Insurance
This insurance combines business content coverage and general liability insurance to cover both lawsuits and damage to your property, and it usually costs less than buying property and general liability coverage separately.
4 - Worker's Compensation Insurance
This insurance pays for medical expenses, lost wages, and lawsuits if one of your employees is hurt on the job.
5 - Additional Insurance
Other types of commercial insurance you may want to consider include…
Umbrella Insurance

, which goes above the normal limits covered by your liability and auto policies

Food Spoilage Insurance

, which covers you if your food spoils due to equipment breakdown, mechanical failure, or power outage

Loss of Income Insurance

, which covers some of your income if your food truck is damaged, and you're unable to continue operations.
Do it Right! Contact Us for Help in Making a Smart Decision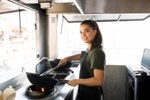 If you aren't absolutely sure what you need to properly protect your food truck business, give the independent insurance agents at American Insuring Group a call.
We specialize in restaurant and food truck insurance and can help you sift through all your risks and options in order to properly protect your business. Simply contact us at (800) 947-1270 or (610) 775-3848, or click here to contact us online.