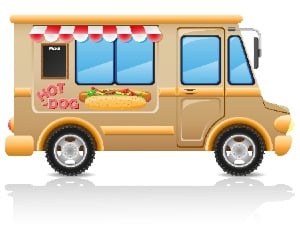 Food Trucks may have started as a big-city phenomenon, but their numbers are growing in big and small towns alike. While the restaurant industry continues to grow at a steady rate of approximately 2% each year, food trucks have increased at a rate of 7.9% annually over the past five years, according to FoodTruckr.com. In 2017, food trucks were a $2 million industry.
Much of the appeal may be the relatively low start-up and operating costs. But as with any business, food trucks come with their share of risks. The right type of restaurant insurance can help protect your investment if something happens. Taking proactive steps to avoid that "dreaded something" from happening can save lots of time, money, and headaches, and avoid increased restaurant insurance premiums as well.
Here are three food truck risks you should consider and tips to help you mitigate them:
Damage to Your Vehicle
Your food truck is your livelihood, and if something were to happen to it – like a fire or auto accident – that puts your vehicle out of commission for any length of time, your business could be in jeopardy. Here are some tips to avoid damage to your food truck:
Vet your employees.
We know you have a lot of things to consider when hiring someone new, but if they will be driving your truck, it's essential to check their driving record. If they've had multiple accidents or speeding tickets, the chances of them damaging your truck in an accident are probably higher. Plus, employees with bad driving records could cost you more on commercial auto insurance.


Drive Safely.
While your food truck is in motion, there's always the possibility of an accident. However, there are safety measures that you can take and that you can share with your employees such as being an alert driver, maintaining your truck, Keeping enough space between you and the vehicle in front of you, etc. Mobile-Cuisine offers these food truck driving safety Tips.
Injury to an Employee
There are a lot of dangers in the food industry that also apply to food trucks like falling, burns, cuts, etc. Your employees can be your biggest asset and your biggest liability. Practicing safety in the kitchen can help save you money on Workers' Compensation and liability costs, and it's just good business. Here are tips to create a safe kitchen for your food truck:
Create and enforce a safety plan.
This is a big one. It can be time-consuming, but it is well worth your time if it can avoid causing injury to employees or customers.


Train your employees.
Creating a safety plan and then simply letting it sit in a drawer gathering dust is a waste of time and money. Make sure your employees understand and follow the safety procedures you've put in place. Make it clear that safety is a priority and hat your safety plan isn't just a formality, but something that every employee is expected to follow.


Create a safe environment.
Try to eliminate potential hazards by keeping floors clean and uncluttered, providing personal protective equipment when appropriate, properly maintaining kitchen equipment, and following manufacturers' instructions.
Injury or Illness of a Customer
In this litigious society that we live in, every business owner needs to be aware of liability risks. If a customer standing in lines trips, falls, and hurts themselves, they could sue you. If they suffer from a food-related illness after eating your food, they could sue you. Liability insurance is a must, but here are some steps to limit injury and illness to your customers:
To avoid food-related illnesses, follow food handling and safety measures such as storing food correctly, following proper cooking procedures, preventing cross-contamination, and practicing proper handwashing techniques.


Ensure that the area around your truck is clear of hazards such as slippery surfaces, cords, etc., and clearly mark any potential hazards you may not be able to control.
Get the Best Commercial Insurance for Your Restaurant Business
Being proactive is important, but sometimes no matter how careful you are, accidents still happen. This is where the right insurance can help protect your business.
The independent agents at American Insuring Group specialize in all types of Commercial Insurance. Their independence means they are free to shop the market to get you the best deal on insurance that's right for your business.
So call us at (800) 947-1270 or (610) 775-3848, or contact us online.