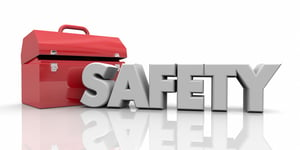 We often discuss improving worksite safety to lower Contractors Insurance costs. A safer worksite means fewer injuries, which means fewer claims and lower insurance premiums. If there is only one thing contractors do to reduce the cost of insurance (along with many other costs), it's to focus on safety.
OSHA reported that 21.1% of all worker fatalities in the private industry in 2018 were in construction – that's one in five worker deaths. We often focus on safety measures to avoid OSHA's Fatal Four - Falls, Struck-By, Caught-In/Between, and Electrocutions. Many hidden worksite hazards are less visible and often get ignored.
Here are three of those "less visible" hazards:
Complacency
Most workers are aware of the obvious in-your-face hazards on work sites – like working around heavy construction equipment or working at great heights – and will be on high alert when working around those hazards. Unfortunately, it's common for workers to let down their guard when they are not working around the obvious hazards.
Also, when a worker performs a task repeatedly over a long period of time, they can become desensitized to the hazards involved in that task. Think back to the first time you drove a car.
You probably paid attention to your every move. What about now – five, ten, twenty years later? Do you even think about putting your turn signal on or stopping at a stop sign? After many years, it becomes easy to operate on auto-pilot. The same can be true when driving a backhoe or bulldozer or any piece of heavy equipment after a few years.
It's also important to remember that supervisors and employees do not live in a vacuum; they have personal lives that can distract them from their job. They may rush to try to get home in time for their daughter's hockey game. They may be distracted by concerns about a sick parent or financial problems. They may be exhausted after staying up all night with a teething baby.
This is why on-going safety training is vital to your employees' safety. They need to be reminded of hazards and how to avoid them, the importance of staying alert at all times, and the potential consequences of not paying attention and following safety procedures.
An Ever-Changing Workforce
As you move from one project to another, your need for employees probably changes, and you end up with high employee turnover. This high turnover, along with tight deadlines, often leads to little time for safety training.
This results in many employers providing the minimum mandatory safety training. The truth is that to protect your employees properly and keep them safe, you need to go beyond the bare minimum OSHA requirements.
Lack of Communication
Communication is the most effective tool when it comes to workplace safety. Managers must regularly remind employees about potential hazards and the importance of workplace safety. Toolbox talks are an easy way for forepersons and supervisors to supplement regular safety training and to keep safety at the forefront of their workers' minds. These talks should be a supplement to regular training, not a replacement.
Lower Your Contractors Insurance Costs the Easy Way!
A safe and healthy workplace helps reduce costs in many ways, including lower turnover, production losses, damage to equipment, and, of course, Contractors Insurance costs. Another way to lower insurance costs is to work with one of the independent agents at the American Insuring Group.
Our experienced agents specialize in Contractors Insurance and will compare the cost and coverage of your insurance among many insurance companies to ensure that you get the best price on solid insurance protection. Give us a call at (800) 947-1270 or (610) 775-3848 or connect with us online.