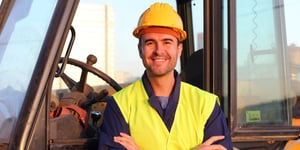 Want to lower your Contractors Insurance Costs? Lower Your Experience Rating.
Your construction company's experience rating helps determine your Workers' Compensation Insurance costs and is based on your company's WC claim history compared to other companies similar to yours.
You can think of a lower experience rating as a reward for having a safer work environment or perhaps as an incentive to create a safer work environment. The bottom line is that a lower experience rating results in a lower insurance premium.
The Experience Rating
The Pennsylvania Compensation Rating Bureau (PCRB) describes your experience rating as "a systematic, mathematical method of modifying future premiums." It is based on past claims and helps determine your experience modifier, which is an adjustment of your annual premiums based on the likelihood that you will file a claim.
You qualify for an experience rating if your audited payroll or other exposures over a three-year period, multiplied by the current PCRB lost costs by classification, add up to $10,000 or more.
The experience rating is continually being updated based on a sliding three-year experience period, which according to PCRB, "assures a stable historical record for the individual employer, while also using the most recent available loss experience of the employer." This means improving workplace safety and minimizing claims can change your experience rating and the premiums you pay.
What if your insurance premiums are less than $10,000? The merit rating plan enables businesses to receive a 5% discount or surcharge depending on their loss history, which provides financial incentives for small businesses to operate safer workplaces.
The following factors affect your experience rating, which determines your experience modifier:
Number of Claims
Cost of Claims
Frequency of Claims
Severity of Claims
Closed vs. Open Claims
Claims History of other businesses in your industry
Years in business
Number of employees
State minimums
The following formula then determines your WC premiums:
WC Premium = Class Code Rate X Experience Modifier X payroll/$100
So, you can see how a lower experience modifier can lower your WC costs.
NOTE: The experience rating formula places more emphasis on loss frequency than it does on loss severity. Therefore, a business with many small losses can end up with a higher experience modifier than a company with fewer, but more severe, losses.
Tips to Lower Your Experience Rating
It comes as no surprise that the number one tip to lower your experience rating is to reduce the number of accidents in your workplace. How do you do that?
Institute a Workplace Safety Program
Engage management and employees in safety protocols
Properly train employees and management on safety
Identify and mitigate hazards
Provide employees with proper PPE
Have adequate staff levels
Inspect and maintain all equipment
The Insurance Information Institute offers this advice, "Review, respond, and improve. Promoting workplace safety is an ongoing process. You should review and improve your program—especially in response to accidents or 'near misses.' Employees should always be encouraged to report newly identified hazards or workplace incidents so that you can respond appropriately."
The other thing you can do is get injured workers back to work as quickly and safely as possible with a Return-to-Work program.
Here's How to Save on All Your Commercial Insurance Needs
American Insuring Group specializes in Contractors Insurance and in all types of commercial insurance. Our independent agents will compare the cost of your coverage among many insurance companies to help you get the best rate on all your Contractor Insurance needs.
Call today at (800) 947-1270 or (610) 775-3848 or connect with us online.