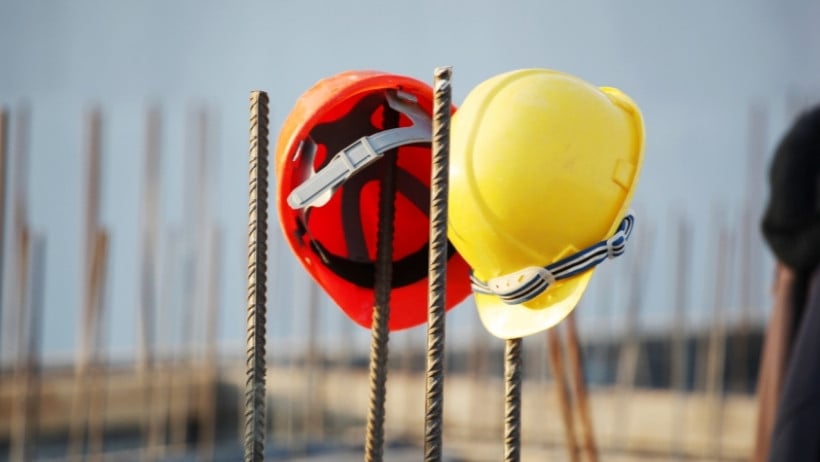 One of the best ways to lower Contractors' Insurance (and other) costs is to create safer worksites. But unfortunately, construction sites are filled with many hazards. In fact, according to the Occupational Safety & Health Administration (OSHA), "About 20% (1,061) of worker fatalities in private industry in calendar year 2019 were in construction – accounting for one in five worker deaths for the year."
Fortunately, you can take steps to minimize risks, and the first step is to identify potential hazards.
10 common construction site hazards and tips to reduce their impact on your business:
Falls from heights

– "In 2019, there were 401 fall fatalities out of 1,102 total fatalities in construction," according to the

Centers for Disease Control and Prevention

(CDC). "Falls are a hazard found in many work settings, but construction has the most fatal falls out of all industries and represents 51% of all falls nationally." Some causes of falls include unsecured scaffolding or ladders and a lack of guardrails or safety nets.


Being struck by moving objects - Construction sites are filled with many moving objects – vehicles, equipment, materials, etc. Being struck by an object is one of OSHA's Fatal Four, accounting for approximately 10% of all construction worker deaths. Poor lighting, too little space to maneuver, and working too closely can cause injuries from moving objects.


Slips and trips – According to the CDC, "27% of the 888,220 nonfatal work injuries resulting in days away from work in 2019 were related to slips, trips, and falls." Slips and trips can be caused by wet and slippery surfaces, uneven surfaces, etc. Most are easily prevented.


Noise – Loud noise can cause a significant distraction and permanent hearing loss.



Vibrations

– Using tools such as drills, jackhammers, and chain saws can cause Hand-arm vibration syndrome (HAVS). "About 2 million U.S. workers are exposed to hand-arm vibration, and as many as half will develop HAVS, one expert says," according to

Safety and Health Magazine

.


Manually moving materials and equipment – Incorrectly lifting, moving, and handling materials or equipment can cause severe injuries, such as Musculoskeletal Disorder (MSDS).



Asbestos

– While asbestos only becomes a problem when damaged, it causes an estimated 255,000 deaths annually, according to the

National Library of Medicine

.


Electricity – Electricity is an essential part of any construction worksite, but it can also cause severe injuries and even death. Electrical accidents can occur from contact with overhead or underground power cables, damaged tools or equipment, inadequate wiring, overloaded power boards, and improper insulation.


Airborne materials – Invisible and fine dust material caused by cutting concrete, woodworking, and more are prevalent at construction worksites, and prolonged exposure to it can lead to illnesses such as asthma, lung cancer, emphysema, etc.



Excavation/trench collapse

– Collapses are all too common on construction sites. In 2020 alone, at least

21 workers died in trench collapses

. The leading cause is inadequate cave-in protection.
4 Tips to Minimize Risk
You can take steps to minimize the risk of injury caused by any of these hazards. Some are specific to the threat, such as providing adequate cave-in protection to avoid collapses or implementing a lockout tagout system to prevent electrical injuries.
Below are four steps that can be taken to minimize the risk of many hazards:
Training – Safety training helps employees recognize and avoid potential hazards at the workplace.

Proper PPE – To create a safer work environment, appropriate

personal protective equipment

(PPE), such as hard hats, safety glasses, and gloves must be provided. In addition, employees need to be trained on the proper use of PPE.

Work Area management – Work area management includes keeping pathways clear of debris and hazards, providing safety nets or guard rails where needed, ensuring that equipment and tools are kept in a secure area after use, and ensuring spills are immediately cleaned up, etc.

Proper maintenance – Equipment that is regularly repaired and maintained in excellent condition helps avoid injuries.
Lower Your Contractors Insurance Premiums
Creating a safer worksite and working with the right insurance agent can lower contractors insurance premiums. The independent agents at American Insuring Group specialize in contractors insurance and check with multiple insurance companies to get you the right coverage at the lowest price.
So start saving today. Call us at (800) 947-1270 or (610) 775-3848, or connect with us online.