You've probably heard that the United States is in the middle of an opioid overdose epidemic. Opioids - a class of drugs that include both heroin and prescription pain relievers such as oxycodone, codeine, and fentanyl - are being prescribed at an alarming rate and too often those prescriptions are leading to opioid addiction and even death. Workers compensation insurance costs are, of course, impacted by the epidemic.
INFOGRAPHIC:
The Opioid Overdose Epidemic And Workers Compensation Insurance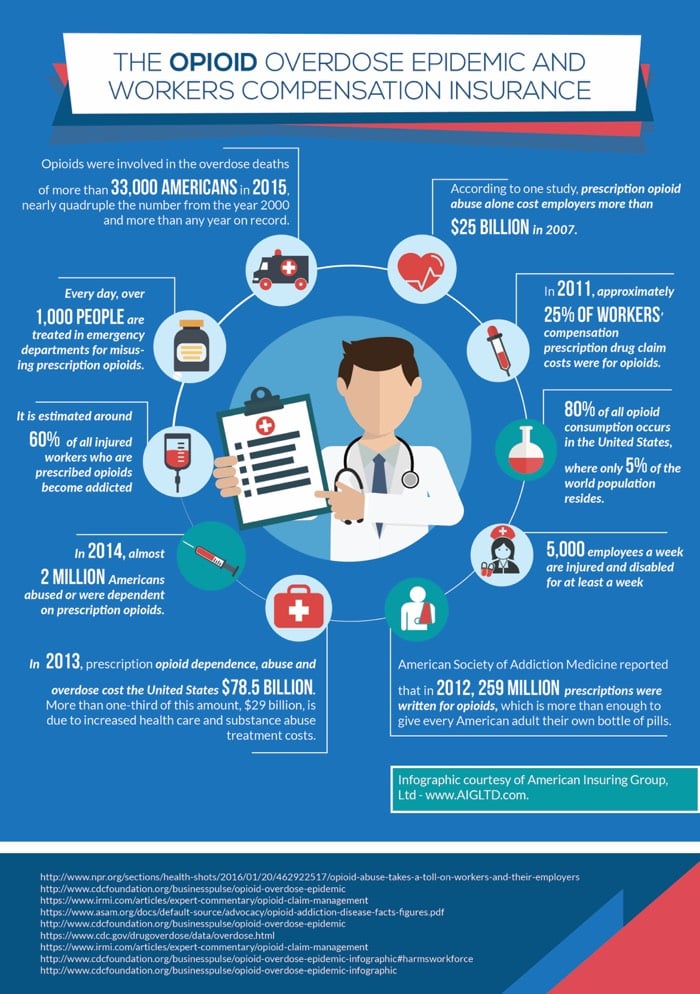 259 Million Opiod Prescriptions in the US?
The American Society of Addiction Medicine reported that in 2012, 259 million prescriptions were written for opioids, which is more than enough to give every American adult their own bottle of pills!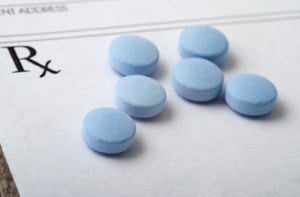 The Center for Disease Control (CDC) reported that every day, over 1,000 people are treated in emergency departments for misusing prescription opioids, and in 2014, almost 2 million Americans abused or were dependent on prescription opioids.
"Opioids were involved in the overdose deaths of more than 33,000 Americans in 2015, nearly quadruple the number from the year 2000 and more than any year on record," according to the CDC.
The Impact on Your Workers Compensation Insurance
There is no denying that the human costs of this epidemic are tragic, but have you ever considered what this epidemic is costing your business? The CDC reports that the side effects of opioids – drowsiness, mental confusion, depression, nausea, etc. - can increase the risk of workplace incidents, errors and injury. In 2013, the estimated lost productivity for people in the United States with opioid use disorder totaled $20.4 billion and a cost of $29 billion in increased health care and substance abuse treatment.
60% of Injured Workers May be Addicted to Opiods
According to the International Risk Management Institute, Inc. (IRMI), 5,000 employees a week are injured and disabled for at least a week and pain management is often part of their treatment. The CDC reported that in 2011 approximately 25 percent of workers compensation prescription drug claim costs were for opioids. IRMI says, "While reliable data showing the proportion of injured workers that may be addicted to opioids is hard to find, it is estimated around 60 percent of all those prescribed."
Reducing the Human and Financial Impact of Opiod Abuse
At the 2017 Workers Compensation Research Institute Conference earlier this year, experts provided two recommendations to reduce the human and financial impact of this epidemic.
Mandate for Physicians to check Prescription Drug Monitoring Data
Kentucky, which was has been at the epicenter of the opioid drug problem and opioid overdose deaths, became the first state (2012) to require physicians to search patients' prescription drug histories on an electronic database - Prescription Drug Monitoring Program (PDMP) - before prescribing opioid painkillers, sedatives or other potentially harmful and addictive drugs. According to a former employee at the Kentucky Department of Workers Compensation Claims, this one step had the biggest impact. Since then, fifteen more states – including Pennsylvania – have instituted the same mandate.
Alternative Pain Treatment
The current medical model for the treatment of pain isn't working because it doesn't consider the biopsychosocial factors of pain management. This includes "biological factors (genetic, biochemical, etc.), psychological factors (mood, personality, behavior, etc.), and social factors (cultural, familial, socioeconomic, medical, etc.)," according to John W. Santrock, Ph.D. Some popular options for pain management include mindfulness and Cognitive Behavioral Therapy (CBT).
When it comes to Workers' Compensation claims taking a collaborative approach that includes a variety of experts, different pain management approaches, and the injured worker has shown to be more effective in reducing medical costs and in getting employees back to work more quickly.
Don't Overpay for Worker's Compensation Insurance - Contact Us
To learn how we can help you save on workers compensation insurance, contact American Insuring Group online or call at (800) 947-1270 or (610) 775-3848. Our independent insurance agents will check for the best rates among many competing insurance carriers. You'll get a quality policy at a geat rate.
Contact us today to start saving!