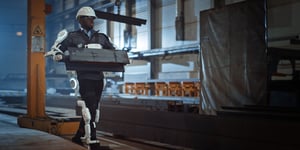 Would you be surprised to discover that technology used in sci-fi movies, such as Iron Man, could actually help reduce your Workers' Compensation Insurance costs? In the film, Tony Stark builds an armored suit that allows him to save the world – more than once. The armored suit is a souped-up version of exoskeleton technology, which some businesses are now using to avoid workplace injuries and help injured employees return to work faster.
What is Exoskeleton Technology?
Exoskeleton technology is not a new concept. It has been in development since the late 1800s. Exoskeletons are "wearable devices that work in tandem with the user." They are placed on a person and "act as amplifiers that augment, reinforce or restore human performance."
Using pneumatics, levers, hydraulics, and electric motors, exoskeletons can help employees move heavier objects and work longer hours, reduce injuries, avoid repetitive trauma injuries, and get employees back to work more quickly after an injury. While exoskeleton technology is most commonly employed in military applications, businesses are quickly discovering many benefits of the technology.
How Can Exoskeleton Technology Reduce Workers' Compensation Costs?
Lower workplace injuries and the number of claims, and you lower your WC costs. Get injured employees back to work as quickly and safely possible, and you lower WC costs. Exoskeleton Technology has shown to do both.
According to the U.S. Department of Labor, Occupational Safety and Health Administration (OSHA), one of the most common and costly types of workplace injuries is repetitive strain injuries. The U.S. Bureau of Labor Statistics states that nearly two-thirds of all occupational illnesses reported were caused by exposure to repeated trauma to workers' upper body.
According to Ford Motor Company, its assembly line workers lift their arms during overhead work tasks approximately 4,600 times per day or about one million times a year and concludes, "At this rate, the possibility of fatigue or injury on the body increases significantly."
In 2005, Ford began using an EksoVest on many of its production lines to help lessen worker fatigue and injuries. The EksoVest is wearable technology that "elevates and supports a worker's arms while performing overhead tasks. It can be fitted to support workers ranging from 5 feet tall to 6 feet 4 inches tall and provides adjustable lift assistance of five pounds to 15 pounds per arm. It's comfortable to wear because it's lightweight, it isn't bulky, and it allows workers to move their arms freely."
Ford reports, "Between 2005 and 2016, the most recent full year of data, the company saw an 83 percent decrease in the number of incidents that resulted in days away, work restrictions or job transfers – to an all-time low of 1.55 incidents per 100 full-time North American employees."
While there is an upfront cost to exoskeleton technology, more companies are finding it's worth the price. The technology helps reduce the number and severity of workplace injuries; thereby, minimizing the costs associated with workplace injuries, such as lost production, lower employee morale, etc. Plus, they're getting injured employees back to work more quickly. All of this is leading to lower Workers' Compensation costs.
Exoskeleton technology is no longer limited to science fiction movies but has practical applications in today's workplace that can help lower Workers' Compensation costs.
Learn More on How to Save on Workers' Compensation Insurance!
As Workers' Comp Insurance experts, the American Insuring Group agents can help you save big on Workers' Compensation and other business insurance needs. Give us a call at (800) 947-1270 or (610) 775-3848 or connect with us online for a free workers comp insurance quote today!