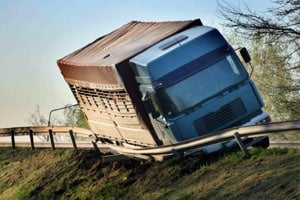 Buying or leasing a truck is a significant investment, and trucks are the lifeblood of truckers and trucking companies. For many truckers, the loss of their vehicle would mean the loss of their job and their income. For a large trucking company, the loss of a truck may not be as significant, but it would still negatively impact their business. That's where
Physical Damage Truck Insurance
comes in.
Imagine: your truck is damaged in a fire. Would you have enough in savings to pay for the repairs needed to get that truck back on the road? What if your truck were totaled in an accident? Would you have enough in savings to replace it? These are things you need to consider, and for most individuals and even businesses, the answer is no, not even close.
So, thank goodness for Physical Damage Insurance, which can help keep you in business even if your truck is damaged.
What is Physical Damage Insurance?
It's pretty much exactly what it sounds like. Physical Damage Insurance helps cover the cost of repairing or replacing a purchased or leased item – in this case, your truck – in the event of a loss. There are two basic types of Physical Damage Insurance: comprehensive and collision.
Commercial Vehicle Collision Insurance
Collision insurance covers damages and loss to a vehicle that is caused by a collision with another vehicle or object, a roll, or an overturn. If your truck is totaled, collision coverage will pay you the estimated current cash value - less your deductible - to replace it. This type of coverage tends to be the more expensive of the two and has a more significant impact on the cost of your insurance if you experience a loss just because it's more likely to happen.
Comprehensive Truck Insurance
Comprehensive insurance will help you pay for the repair or replacement of your commercial vehicle if the damage is caused by something other than a collision, roll, or overturn. It covers damage caused by fire, theft, hail, vandalism, collisions with animals, etc.
Neither type of insurance will cover general wear and tear such as worn brake pads, blown transmissions, or rusted parts.
The cost of Physical Damage Insurance depends on the type of truck, the goods carried, the number of years' experience a driver has, claims history, your deductible and more.
Other Types of Physical Damage Coverage
A lender or lessor may require you to have Physical Damage insurance, but it may not be enough to cover your needs. Here are other types of Physical Damage coverage you may want to consider:
Fire and Theft with Combined Additional Coverage (CAC)
This type of physical damage coverage is a limited form of Comprehensive insurance designed especially for heavy-duty trucks. It's also known as Limited Comprehensive or Specific Perils Insurance.
Gap Coverage

Gap coverage pays the difference between the amount of money you still owe on the lease or loan for your commercial vehicle and the actual cash value (ACV) of the vehicle. The ACV of your truck is the actual market value of the truck. Unlike personal lines of insurance, commercial insurance does not offer replacement value (the amount it would cost you to actually replace the vehicle).
Here's an example: You purchased a new vehicle for $40,000 and then drove it thousands of miles for a year or two. At this point, your vehicle has an ACV of $30,000. But what if you still owe $35,000 on your loan? Gap insurance will cover that $5,000 gap (minus your deductible).
Endorsements
Insurance endorsements – Aka riders - are additions to existing insurance policies that change a policy's coverage to help fill holes in the basic coverage. Some endorsements available with commercial Physical Damage Insurance include the following:
Coverage for your personal belongings
Coverage for electronic equipment
Payment for a rental truck while your vehicle is being repaired
A single deductible for both truck and trailer
Increased towing limits
Roadside assistance
Get a Great Deal on Truck Insurance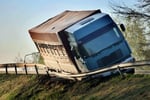 At American Insuring Group, we carefully analyze your needs and the risks associated with your trucking business. Then, we compare the cost of that coverage among many competing insurance companies to make certain that you receive a great deal. The result: quality insurance coverage for your needs at the best price.
Call American Insuring Group at
(610) 775-3848
or
(800) 947-1270
to speak with one of our trucking insurance specialists or
contact us online
.