As we're sure you're aware, buying or leasing a truck is a huge investment. Many truckers, use most or all of their savings to purchase their vehicle.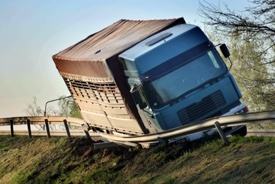 Now, what would happen if your truck was damaged, stolen, or totaled in an accident? Would you have enough money to cover the repairs or replace the truck? What would it mean to your livelihood?
Are you certain your truck insurance is adequate to keep you financially secure if the worst were to happen?
These are all scary questions, but they're also real possibilities.
Getting Proper Insurance for Your Truck
The good news is that you can protect yourself from most damages your truck may incur with physical damage truck insurance. If you have a loan on your truck or you lease your truck, physical damage insurance is probably required. But even if you own your truck outright, you'll want to consider physical damage insurance to protect your investment (and your livelihood).
2 Types of Physical Damage Truck Insurance
There are two different parts to physical damage truck insurance: collision insurance and comprehensive insurance. Collision Insurance pays for damages incurred if your truck collides with another vehicle or object. In the event of a collision, collision insurance will pay to repair or replace your truck. Comprehension Insurance pays for other types of damage your truck may incur, such as vandalism, theft, collision with an animal, glass breaking, fire, and more.
Physical Damage Insurance Considerations
Here are some important things to consider when shopping for physical damage truck insurance:
Stated Amount - You will need to provide the stated amount – your best estimate of the value of your truck – if you are adding comprehensive insurance. The stated amount should be based on the make and model of your truck, mileage, upgrades, and comparable sales data. The stated amount will have a big impact on how much you pay in premiums, so it's a good idea to work with a good insurance agent to determine the proper value.


Actual Cash Value - The amount you will receive on a physical damage truck insurance claim is based on the Actual Cash Value (ACV) of your truck, which means the market value of your truck. Unlike personal lines of insurance, replacement values are not available for commercial policies.


Deductibles - One way to reduce your premiums is to increase your deductible. You should determine a dollar amount that you would be comfortable paying in the event of a claim.


Endorsements – There are certain things that a basic trucking physical damage policy may not cover, that an endorsement will. Endorsements you may want to consider are a single deductible for your truck and trailer, personal belongings coverage, electronic equipment coverage and a rental truck while your vehicle is getting repaired or replaced.
Let's Talk About Your Truck Insurance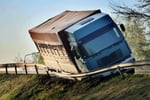 Protect your truck and your livelihood with physical damage insurance by giving American Insuring Group a call at (800) 947-1270 or (610)775-3848 or contact us online to learn more about both collision and comprehensive insurance for your truck.
We specialize in PA Truck Insurance, so whether you are in Philadelphia, Reading, Allentown, Harrisburg, Pittsburgh, Erie or elsewhere, we'll find you the best deal on insurance. That's because our independent insurance agents are free to shop and compare lots of competing insurance quotes, so you can count on getting great coverage at a great price.
Contact us today!