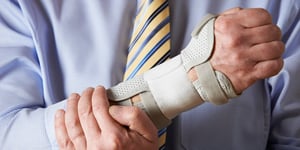 We often discuss how improving workplace safety can help lower Workers' Compensation Insurance costs, and we typically focus on very hazardous industries, such as construction. But every workplace has its share of hazards that can cause employee injuries.
The National Safety Council reports that a worker is injured on the job every seven seconds. What may surprise you is the three most common types of injuries that keep workers away from work are sprains, strains, or tears; soreness or pain; and cuts, lacerations, or punctures. The three most common workplace injuries resulting in lost workdays include overexertion, contact with objects or equipment, and slips, trips, and falls.
While these types of injuries may be more prevalent at construction sites and other obviously dangerous workplaces, they can happen at just about any worksite – even a seemingly safe office setting. For example, an employee can lift a heavy box of office supplies improperly and experience overexertion. Or someone can fail to clean up spilled coffee in the breakroom, causing someone else to slip and fall.
Minimizing accidents can help lower your WC Insurance costs because there is a specific formula for determining the cost of your WC insurance:
Premium = (Payroll/$100) x Class Code Rate x Experience Rate Modification
Your experience rate modifier, often called MOD, is a numeric representation of your claim experience. The number is based on how your claims compare with other companies with a similar classification of employees. Employers with fewer than average and less severe accidents than average will have a lower MOD, which will help lower the cost of WC Insurance.
Whether you are looking at employees in a highly hazardous occupation like construction or a less hazardous occupation like an office setting, minimizing workplace injuries can help lower WC and other costs. The first step to lowering injuries is to identify and assess potential hazards.
Here are the types of hazards you should look for:
Safety Hazards are unsafe working conditions that can potentially cause illness, injury, or death, such as spills that aren't cleaned up, frayed cords, and confined spaces.
Physical Hazards include exposure to extreme temperatures, the sun, radiation, or loud noise.
Chemical Hazards include dangerous chemicals in any form (solid, liquid, or gas) and can occur during the use, transfer, or storage of those chemicals. Potentially dangerous chemicals include cleaning products, pesticides, gasoline, paints, etc.
Microbiological Hazards can include exposure to mold, sewage, airborne illnesses, insects that bite or sting, poisonous plants, animal feces, etc. This is one of the most commonly overlooked hazards.
Electrical Hazards include damaged equipment, overhead powerlines, improper grounding, overloaded circuits, etc. Even improperly used extension cords can become a safety hazard to employees.
Ergonomic Hazards can be found in uncomfortable workstations, repetitive movements, poor body positioning, or anything that puts a strain on an employee's body. These can be the most difficult to spot because the strain isn't always noticed immediately. Discover more about minimizing ergonomic hazards here.
Organizational Hazards is a broad category that includes workplace violence, high stress, excessive workplace demands, lack of respect, or sexual harassment. It can also include housekeeping hazards, such as blocked fire exits, cluttered desks, and over-stacking loads.
Here's How to Save a Bundle on Workers' Compensation Insurance!
The independent agents at American Insuring Group specialize in Workers' Compensation Insurance. We'll make sure that you get the right coverage at the best price. That's because we're free to shop the market for you, unlike those single-brand agencies.
So call us today to start saving at (800) 947-1270 or (610) 775-3848 or connect with us online.