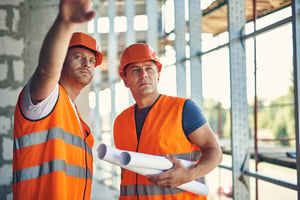 If you get hired as a subcontractor, don't assume that the general contractor's Contractors Insurance covers you. As a subcontractor, you are NOT considered an employee of that contractor, and Contractor's Insurance rarely covers subcontractors. Often, injury or damage caused by a subcontractor is specifically excluded from contractors' insurance policies.
And we don't have to tell you how dangerous your occupation is. The chances of you or one of your employees injuring themselves or causing damage or injury to something or someone else is not out of the range of possibility.
In fact, according to Safety + Health magazine, a construction worker has a 75% likelihood of experiencing a disabling injury and a 1-in-200 chance of being fatally injured on the job. And don't think because you own a small company that you're immune to these statistics. According to the Centers for Disease Control and Prevention, "Nearly half of all deaths on construction sites occur in companies with ten or fewer employees or among those who are self-employed."
While there are no laws that require you to purchase insurance as a subcontractor, you can see why it's the smart thing to do. Plus, many contractors will require that you have certain types of insurance to work with them.
4 Types of Insurance Every Subcontractor Should Consider:
Commercial General Liability (CGL) Insurance
CGL is one of the most important insurance products for any business. CGL protects your business if you are liable for property damage. It covers the cost of medical and legal expenses and damages if you are found liable. One serious lawsuit can put you out of business if you don't have the right protection.
Here are three examples of situations where CGL can help:
Someone visiting your job site trips and falls over materials and is injured.
An employee leaves the water running in the sink of a customer's home and causes damage to the home.
Someone walking by your job site is hit by flying debris and dies.
As a subcontractor, you have two options: you can ask the general contractor to add you as an "additional insured" to their CGL policy, or you can purchase CGL on your own. Most general contractors will require that you purchase your own CGL policy and will very likely include this requirement in your contract and ask you to provide proof of insurance. When you talk to your insurance agent, make it clear that you are purchasing CGL is a subcontractor, not a general contractor.
Workers' Compensation Insurance
If you are a sole proprietor and are injured on the job, would you have enough money to cover medical expenses? As s a sole proprietor would you be able to continue to provide for your family if you were unable to work for a month or two due to a worksite injury? Workers' Compensation Insurance will help pay your medical expenses and even lost wages until you are back on your feet.
If you have employees, most states required (with a few exceptions) that you have Workers Comp for each of your employees. WC covers medical expenses, lost wages, and rehabilitation costs if an employee is injured or killed on the job.
Another benefit of workers' comp insurance is that it covers legal costs if the injured employee were to sue your business.
Commercial Automobile Insurance
If you use a vehicle (which, of course, most in the construction industry do) to conduct business such as transporting materials, equipment, or employees, you should have commercial automobile insurance to help protect you in the event of an accident that causes bodily injury, loss of life, or property damage.
A personal auto policy may not be enough as certain types of vehicles can be excluded from those policies, and it may not offer high enough limits.
Builders Risk Insurance
Builders Risk Insurance (Aka Course of Construction or Inland Marine Coverage) covers a building under construction along with materials related to the project. It typically provides coverage for damage caused by fire, wind, theft, lightning, hail, explosion, and vandalism. Standard exclusions include events such as an earthquake or employee theft.
We'll Help You Find the Contractor Insurance That's Right for You!
An insurance agent (like those at American Insuring Group) who specializes in Contractors Insurance can help ensure that you have the right insurance to protect your business. The independent agents at American Insuring Group will compare the cost of that coverage with several insurance companies to ensure that you get the best price on the protection you need! Give us a call at (800) 947-1270 or (610) 775-3848 or connect with us online.