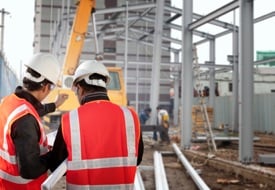 Having a freshly constructed building for your business is exciting. It's the culmination of an undertaking that involved the acquisition of land, working with an architect, hiring a construction company, and picking out the furnishings. After you have completed the project, you will have added a significant investment that you will undoubtedly protect with a well-designed insurance program.
But what about the risks that the project will be exposed to while construction is underway? Many of the risks to your finished building--fire, theft, vandalism, and other hazards--are the same threats that can haunt the construction phase of the project. Damage to work that's in progress or to the construction equipment, for instance, can make it impossible to stay within budget or to remain on schedule.
Builder's risk insurance provides valuable protection
Builder's risk insurance, a form of contractors insurance, offers specialized coverage that protects your insurable interests in the construction or renovation of a building or structure if those items should sustain physical loss or damage from a covered cause.
But the term "builder" can be misleading since insureds can include the ultimate owner or a lending institution in addition to the contractor who is doing the construction work.
Understand your policy's provisions
The various options available under builder's risk coverage depend on the policy's provisions. These provisions will include the causes of any loss and risks against which you are being insured. The wording should be studied before the construction contract is signed to avoid any coverage problems during construction.
Many builder's risk policies take a broad approach to the property to be covered, indicating that the coverage applies to all property intended to become a permanent part of the construction, installation or erection of the project. Other policies may refer to covered property as "buildings or structures in the course of construction, erection or fabrication." If this is the policy's wording, you need to remember that although a building is a structure, not all structures are buildings. Since a building is usually considered to be an occupied structure, if the construction project involves a structure, identify it as such, and confirm the insurer writes the provisions of the policy with the structure in mind.
Know which losses are covered by your builder's risk insurance
It's common for a builder's risk policy to provide coverage for certain items. The list includes:
Scaffolding
Temporary structures
Construction forms
Cribbing
Some insurers cover these automatically, and some will subject them to a limit. Others may require you to add their values to the policy limit. In most cases, the contractor's equipment—ditch diggers, bulldozers, etc.--is not covered. For these items, an equipment floater is recommended.
Know which risks are not insured
Insurance companies write most policies on an all-perils basis. In other words, coverage applies to physical loss or damage from any cause of loss, unless the loss is limited or results from an explicitly excluded peril. The "non-fortuitous" loss is excluded even though it might not be expressly stated. This is a loss that is expected to happen or has been caused intentionally. It is not accidental and therefore not a loss that will likely be covered by insurance.
Commonly excluded are losses brought about by the following:
Ordinance or law
Nuclear hazard
Earth movement
Flood
Civil authority
Contamination
Also generally excluded are losses from criminal, fraudulent, dishonest or illegal acts; mechanical breakdown; loss of use and consequential losses; wear and tear; pollution and steam boiler explosion, which can be covered by a separate breakdown policy.
Keep in mind that you must tailor builder's risk insurance coverage to the specific risks associated with your project and to the expectations of all project stakeholders.
Get the Right Builder's Risk Insurance Policy

We can help you create a policy that meets the needs of your construction project. As independent insurance agents, we're free to shop among competing providers to help you obtain the best insurance solution at the right price.
To learn more about builder's risk insurance, contact American Insuring Group online or call us at (800) 947-1270 or (610) 775-3848.