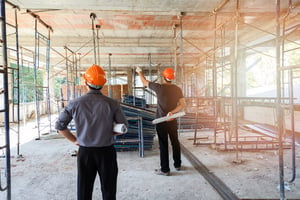 Insurance is a way to protect the things you have of value – vehicles, employees, buildings, etc. But what if you're in the process of building or remodeling a structure? Does it have any value? Of course, it does, and it is susceptible to damage just like anything else, which is where Builder's Risk Insurance comes into play.
According to the National Fire Protection Association, between 2010 and 2014, fires in structures under construction resulted in $172 million in property damage every year, and fires in structures undergoing major renovation resulted in $108 million in direct property damage each year. And that's just fires. Structures can also be damaged by vandalism, theft, severe storms, and more.
Therefore, it's imperative that you protect these project just as you would anything else of value. Here's what you need to know about Builder's Risk Insurance.
What Is Builder's Risk Insurance?
Builder's Risk Insurance (Aka Course of Construction) is temporary coverage for damage or loss to a structure that is being constructed or renovated.
If your existing property insurance doesn't cover renovations or additions, Builder's Risk Insurance can fill that gap. Most owners and lenders, along with most local, county, and state building and code enforcement agencies will require a contractor to have builder's risk insurance.
Property owners, builders, financial institutions, contractors, or development/investment companies typically purchase Builder's Risk Insurance, and additional parties may also be protected under an additional named insured clause.
Builder's Risk Insurance is usually purchased before or on the date of construction when the contract is signed. If purchased after construction begins, the percentage of the work is completed will be considered.
These policies can be written in three, six, or twelve months terms, and can typically be extended (one time) if a project is not done on time.
What Does Builder's Risk Cover (and Not Cover)?
---
Builder's Risk insurance may just cover the structure, or it may also include materials and/or equipment used in the project. Each policy is different, so it's essential to understand what a policy covers and doesn't cover.
Typically, Builder's Risk Insurance covers damage from the following:
fire
wind
theft
lighting
hail
vandalism
vehicles/aircraft
explosions
Typically, Builder's Risk Insurance does not cover damage resulting from faulty design, planning, workmanship, and materials. Professional Liability insurance usually covers that type of damage.
Plus, Builder's Risk Insurance usually doesn't cover workplace injuries or liability. Other standard exclusions include the following:
employee theft
water damage
weather damage to property in the open
earthquake
war
government action
mechanical breakdown
What Is the Cost of Builder's Risk Insurance?
The limit of the policy should reflect the total completed value of the project – including materials, labor, and overhead but excluding land cost. You can also insure a percentage of the building profit.
Typically, the best way to determine the best amount of coverage is to look at the construction budget. If changes result in an increase in the value of the structure, you should contact your insurance provider, so the policy can be endorsed to reflect the new value.
The cost generally runs between one and four percent of total construction costs.
How Do You Purchase Builder's Risk Insurance?
Every construction project has a lot of moving parts, and each project is different. Your first step should be to find an agent with experience in contractor's insurance like the agents at American Insuring Group.
Here is the basic information you should be ready to provide your agent:
Insured name and mailing address
Builder information – name, years of experience, number of structures built or remodeled in the last year and the projected number of projects for the next year, and loss history
Property information – address, square footage, number of stories, total completed value, type of construction material, and fire protection class
Here's How to Get the Best Price on Builder's Insurance
If you want to ensure the proper coverage, limits, and policy type are in place for your next project, give American Insuring Group a call at (800) 947-1270 or (610) 775-3848 or connect with us online. Not only do we specialize in contractors insurance, but we are also independent agents, which means we thoroughly check e and compare pricing and coverage with multiple companies to ensure that you get the best price and quality protection!