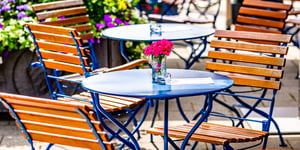 The rules and restrictions put in place by Gov. Tom Wolf, during the COVID-19 pandemic, forced many restaurants to get a little creative. At first, only take-out and curbside pickup were allowed, and then in early June, restaurants were given the okay for outdoor seating.
Many restaurants that hadn't offered outside seating before the pandemic, quickly adapted. And even as we moved into the green phase and some of the restrictions on indoor dining were lifted, many diners continued to feel safer eating outside.
Even without the fear of COVID-19, many people enjoy outdoor dining. Still, restaurants need to remember that outdoor dining presents a few challenges, including risks that could affect the cost of Restaurant Insurance.
Here are tips to ensure the safety of your customers and staff:
Food Safety
Food safety should always be a priority for restaurants, but as the temperatures rise, it becomes even more crucial. According to the US Department of Agriculture Food Safety and Inspection Service (USDA FSIS), there is a "Danger Zone" – temperatures 40 to 140 degrees F - where bacteria can grow more rapidly.
If you are in the "danger zone" (which will often occur with outdoor dining in the summer), don't leave food out of the refrigerator for more than two hours, and if temperatures are above 90 degrees, that time goes down to one hour. Cold foods should be kept at 40 degrees F, or colder and hot foods should be kept at an internal temp of 40 degrees F or higher.
Weather
Bad weather can be just a nuisance or an actual danger to outdoor diners and restaurant staff.
Restaurant managers can keep an eye on the weather and be more prepared for bad weather by uploading a weather app to their phone.
A roof, partial enclosure, or even table umbrellas can help keep diners dry and protected from the hot sun. Other ways to keep diners cool are fans or mist sprayers. Also, make sure your staff provides cold water to customers on particularly hot days.
As the weather begins to cool, you can extend your outdoor dining time with patio heaters to keep diners warm on chilly fall evenings.
Bugs
Bugs are just a part of summer living, but that doesn't make them any more tolerable when your customers are trying to enjoy their meals al fresco! Consider adding mosquito-repelling plants (such as lemongrass or scented geraniums) or a commercial bug zapper or bug light. Do NOT spray insect repellent around food or customers.
Smoking
According to the PA Department of Health, smoking is not banned for "structures such as a deck or patio that is not enclosed by walls and a ceiling." You should still have a policy in place, especially if you decide to extend the ban to outdoor spaces at your restaurant.
Pets
Americans are obsessed with their pets, and many would love to bring their dogs along with them when they eat outside. While many states (17, according to Michigan State University's Animal Legal and Historical Center) are beginning to allow pets into outdoor areas of restaurants, Pennsylvania is currently not one of them – unless it is a service animal protected under the American with Disabilities Act. The reasons for this restriction given by many experts are health (diseases and parasites), safety (biting), and aesthetics (barking).
Lower Your Restaurant Insurance Costs
Keeping diners and staff safe helps keep the costs of Restaurant Insurance in check. Another way to keep those costs down is to work with an independent agent (like those at American Insuring Group) who can compare the cost of your insurance with several carriers to ensure you get the best price. Give us a call today at (800) 947-1270 or (610) 775-3848 or connect with us online.