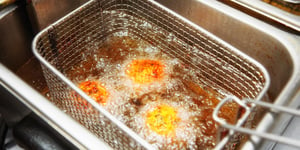 Used properly, commercial deep fryers can result in delicious foods, but they can also cause injuries and damage, which increases Restaurant Insurance costs. Deep fryers are a staple in most restaurant kitchens. However, you can't have a deep fryer without hot oil and grease, and both are powerful fuel sources and fire ignitors.
Hazards of Commercial Deep Fryers
Fire
Deep fryers are involved in about one in five restaurant fires. The FDNY reports that deep fryer fires cause an average of five deaths, sixty injuries, and more than $15 million in property damage every year.
Burns
The oil in commercial deep fryers is typically between 350- and 400-degrees Fahrenheit. Splashing oil can cause severe burns.
Carbon Monoxide Poisoning
If a vent hood or fryer exhaust isn't adequately cleaned or functioning properly, carbon monoxide – an odorless, colorless gas – can quickly fill a kitchen, causing carbon monoxide poisoning.
5 Tips to Minimize the Hazards of Commercial Deep Fryers
1. Proper Training
To avoid an unsafe cooking environment, any employee that uses a deep fryer should be trained on the proper operation and cleaning of a fryer and fryer safety protocol. They should also be trained on appropriate PPP, such as goggles and thermal rubber gloves when operating a fryer. And all kitchen staff should be trained on what to do if there is a fire.
2. Proper Maintenance
A deep fryer and oil that are properly maintained are less likely to cause a problem and more likely to function correctly for longer. Plus, it can help your fried foods taste better. Always have fryers services according to the manufacturer's recommendations. Here are four maintenance tips from Wasserstrom:
Maintain the oil by filtering oil at least once a day, using a skimmer, allowing oil to cool during slower times, shaking off ice crystals from food, and not salting food above the fryer
Regularly clean fryer oil well
Once a week or as needed, perform a full-tank cleanse
Calibrate the fryer every three months
3. Keep Area Around Fryer Clean
Employees should be trained to maintain a clean area around the fryer at all times. Spilled oil on the floor can quickly become slippery, causing an employee to slip and fall, and dirty vent hoods can cause fires, so make sure those are regularly cleaned. Another way to minimize slippery floors is to invest in non-slip mats with holes and require employees to wear non-slip shoes.
It's also important to keep plastic away from fryers as hot oil can quickly melt plastic, creating a hazard. Utensils used in fryers – such as spatulas and mesh skimmers – should be stainless steel – not plastic. Also, avoid using plastic equipment – such as buckets - to clean fryers.
4. Use Fryer Baskets
Use commercial-grade fryer baskets designed for your fryer to hold and drop food into the hot oil. Although many restaurant kitchens use the word "drop" to describe adding food to hot oil, actually dropping the food or a fryer basket into hot oil can cause the oil to splash out. Gently lower the baskets into the oil to avoid burning someone or creating a slippery floor.
5. Keep a Class K Fire Extinguisher
Water doesn't put out oil fires. Therefore, a Class K fire extinguisher - made specifically for fires involving cooking media, such as fats, grease, and oils – should be easily accessible. And all employees should be trained on how to use a fire extinguisher properly.
Commercial deep fryers are a staple in most restaurant kitchens – from food trucks selling French fries to upscale restaurants serving fried quail eggs. Following these tips will help keep your employees and your kitchen safe and help improve your bottom line.
Get a Free Restaurant Insurance Quote!
The independent agents at American Insuring Group specialize in Restaurant Insurance, so we can make sure you have the right insurance at the lowest price. Give us a call today at (800) 947-1270 or (610) 775-3848 or connect with us online to get a free insurance quote.