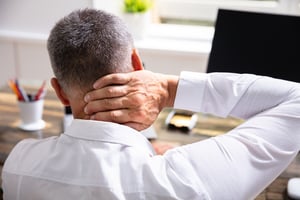 When it comes to increasing workplace safety and reducing Workers' Compensation Insurance costs, your mind may immediately go to improving safety among construction workers, drivers, or maybe factory workers. These occupations are notoriously dangerous. We often hear about a worker breaking his or her leg after a fall or sustaining a concussion after being struck by something.
These are legitimate safety concerns. But there is another threat to safety that many employers overlook – workplace ergonomics, which can cause musculoskeletal disorders (MSDs) and be just as costly to employers.
MSDs are injuries, pain, stiffness, tingling, burning, cramping, or discomfort in the musculoskeletal system, which includes muscles, nerves, tendons, joints, and ligaments. The disorder can affect your neck, shoulders, arms, legs, feet, hands, and the upper and lower back. Examples of MSDs include muscle sprains, arthritis, carpal tunnel syndrome, and tendinitis.
This disorder can be caused by acute trauma like a car accident, but bad ergonomics, such as repetitious motions, vibrations, and awkward postures, can also cause MSDs.
If your employees work in a relatively safe work environment, such as an office, you may not spend much time thinking about how you can improve safety to lower your Workers' Comp costs. If the majority of your employees work in environments where other types of injuries are more prevalent, you may dismiss the impact of MSDs on Workers' Compensation Insurance costs.
You may want to re-think either of those attitudes.
The Cost of Workplace MSDs
An estimated 126.6 million Americans are affected by MSDs, according to Science Daily. That's one in two adults. The cost of the disorder is estimated at $213 billion every year.
And workplaces are not immune to the impact of the disorder. According to ErgoPlus, MSDs account for almost 400,000 injuries every year, account for one-third of all WC costs and result in 38% more lost time than the average injury or illness.
MSDs often result in chronic pain, disability, and mobility issues. The World Health Organization reports that MSDs are the second largest contributor to disability worldwide. The direct cost of MSDs in the workplace is about $20 billion, but the indirect costs, such as lost productivity, product defects, etc. can be much higher.
Employers and employees can work together to reduce MSD risk factors by understanding ergonomics and taking steps to minimize the risks
What is Ergonomics?
Ergonomics is the science of increasing efficiency and reducing discomfort by helping the job fit the worker instead of trying to fit the worker to the job. It can involve engineering controls, such as improving the design of tools or workspaces or automating certain processes. That could mean providing workers with ergonomically friendly accessories such as adjustable tables or chairs, footrests, or lumbar support.
Administrative controls can include actions such as job rotation, reviewing injury logs, and providing employee education, such as discussions on MSD risk factors, how to be mindful of postures, and how to avoid awkward positions.
Reduce MSDs in the Workplace
The first step to reducing MSDs is to learn how to recognize the risk factors, which include highly repetitive tasks, high-force loads that increase muscle effort, and awkward or sustained awkward postures.
ErgoPlus offers this advice to help reduce the risk of MSDs:
Maintain a Neutral Posture by keeping the body aligned and balanced when sitting or standing.
Work in the Power or Comfort Zone, which means lifting close to the body between the mid-thigh and mid-chest.
Allow for movement or stretching if you're working for long periods of time in a static position.
Reduce excessive force
Reduce repetitive or excessive motions
Minimize contact stress, which is caused by continuous contact or rubbing between sharp or hard objects and body tissue
Reduce excessive vibration
Provide adequate lighting
Lower Your Workers' Compensation Insurance Costs
Whether you work in a highly dangerous or a relatively safe industry, your workers can be affected by musculoskeletal disorders, which costs both you and the injured worker big time. Learn to recognize ergonomic risk factors and how to reduce the risk of MSDs to improve the safety of your workplace and the well-being of your employees and lower your Workers' Compensation costs.
Another way to save on WC costs is to work with an agent who can help you identify potential risks and has experience with Workers' Compensation Insurance, like the independent agents at American Insuring Group. Why not give us a call at (800) 947-1270 or (610) 775-3848 or connect with us online?