Who needs commercial vehicle insurance?

If you own a fleet of vehicles that are used exclusively for your business or you own a freight truck or delivery truck, you probably understand that you need commercial vehicle insurance on those vehicles. But what if you have one vehicle that you use to deliver pizzas? What if you use your personal vehicle to drive to job sites or to meetings?
Any vehicle being used for business or commercial purposes is technically a commercial vehicle, which means it needs to be insured by a commercial vehicle insurance policy. This includes any vehicle used for the pickup or delivery of goods and any vehicle used to transport people for business.
You may also need commercial vehicle insurance if your vehicle is…
Registered or titled to a:

Business
Corporation
Partnership
Rented or leased by others
Equipped with:

Snowplowing equipment
Cooking or catering equipment
Bathrooms
Altered suspensions
Hydraulic lifts
Racing equipment
Bottom line: If you own or use any type of vehicle for business purposes, you need a good commercial auto insurance policy to protect yourself, your employees, and your business!
Commercial vs. Personal Car Insurance
It is true that the premiums for commercial vehicle insurance are generally higher than premiums for personal vehicle insurance, but there's a very good reason for that - the risk of covering any vehicle used for business purposes is higher than the risk of covering cars used for personal purposes. This is the main reason car insurance policies for commercial purposes differ from personal policies.
Types of commercial auto insurance include:
Business auto insurance
Truck insurance
Cargo insurance
Pickup truck insurance
Tow truck insurance
Van insurance
Dump truck insurance
Non-owned/hired liability insurance
Many of the common types of personal car insurance coverage also apply to commercial auto insurance, such as:
Bodily injury liability
Property damage
Comprehensive
Collision
Medical payments
Personal injury protection (PIP)
Uninsured/underinsured motorist
But, commercial car insurance policies are better suited to cover:
Your business and its assets
Your employees or other drivers you hire to drive your company cars
The higher risk of operating certain commercial vehicles
DON'T RISK IT!
If you carry a personal car insurance policy, and you file a claim for an incident that occurred while driving for business purposes, you may find that your car insurance company will not pay on that claim. A good commercial auto insurance plan can save you from a financial disaster, regardless of whether you're an independent contractor or the CEO of a multi-million dollar company.
How is my commercial vehicle insurance rate determined?
Your commercial auto insurance rate depends on several factors. These factors include, but are not limited to:
Age and personal driving record of all drivers (driving history is one of the biggest factors in determining your rate)
License type of all drivers
Vehicle make and model including its safety rating, age, and history
Type of cargo the vehicle carries
Number of passengers the vehicle transports
Annual mileage
The nature of your business and how your vehicles are used will also affect your rate. As with personal vehicle insurance, the lower your risk, the higher your savings will be. Other factors include:
The limits of your coverage
Any optional coverage you purchased
Your deductible
Your credit history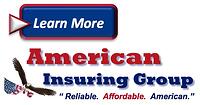 The best way to determine if you need commercial vehicle insurance and what type of coverage is best for your business is to speak with an experienced independent insurance agent. Call American Insuring Group at (800) 947-1270 or (610) 775-3848 or email us to learn more about commercial vehicle insurance.