What a Tragedy Taught us About Fire Safety & Commercial Insurance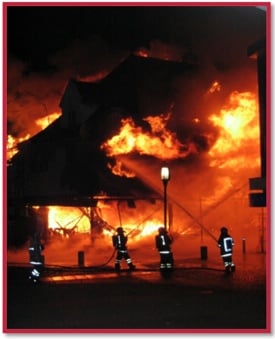 On March 25, 1911, the US witnessed one of the deadliest industrial disasters in American history – the Triangle Shirtwaist Factory Fire in New York City. The fire resulted in the deaths of 146 garment workers – 123 women and 23 men – who were working on the eighth, ninth, and tenth floors. Some died from the fire, but many were killed by smoke inhalation or falling or jumping to their deaths.
This horrible tragedy led to legislation that improved worker safety standards, including better building access and egress, fireproofing, fire extinguishers, alarm systems, and automatic sprinklers. More than one hundred years later, the lessons learned from this tragedy still apply.
Here are some reminders on how to avoid workplace fires and injuries, thereby reducing the long-term cost of your commercial and workers comp insurance by minimizing both the number and severity of your insurance claims.
6 Tips to Avoid Workplace Fires & Injuries
Give them a way out. If the doors to the stairwells and freight elevators in the Triangle Factory weren't locked to prevent theft, many of the 146 workers who perished would have survived.
Enforce smoking bans. Although smoking was banned on the Triangle Factory floor, it was common knowledge that workers often snuck cigarettes in. The suspected cause of the Triangle fire was a discarded match or cigarette.
Quickly get rid of scrap material. Two months' worth of highly flammable fabric cuttings (hundreds of pounds) were in the scrap bins in the Triangle Factory.
Keep them separated. Fabric hanging close to the scrap bins helped the fire spread more quickly.
Make it easy to spread the word. There were no working telephones on the ninth floor of the Triangle Factory, so workers there didn't know about the fire until it had reached their floor. Working, audible fire alarms and emergency communication systems could have made all the difference.
Regularly inspect your fire escapes. Twenty people died when the flimsy fire escape at the Triangle Factory collapsed.
Be Prepared with the Right Commercial Insurance
Contact an American Insuring Group agent at (800) 947-1270 or (610) 775-3848 to ensure that you have the proper workers compensation insurance and commercial insurance to protect both your employees and your business. As independent agents we offer insurance solutions from over 25 competing insurance companies to give you the best options at the best price. Serving Philadelphia, Reading, Lancaster, Allentown, York, PA and far beyond. Call today.