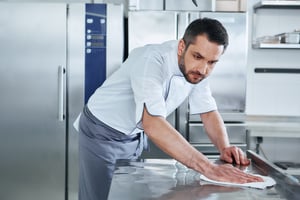 If you are a restaurant owner or manager, you already understand how vital a clean kitchen is to the safety of your customers. But have you ever considered how a clean kitchen can save you money, such as lowering your restaurant insurance and litigation costs?
Unfortunately, with so many other responsibilities, keeping a restaurant kitchen clean can be a real challenge. Having a cleaning and sanitizing process in place (and strictly enforced) can help make the process much easier.
First, we're going to remind you why a clean kitchen is key to any restaurant's success and then provide some tips to help you create a cleaning and sanitizing process for your restaurant.
4 Reasons to Maintain a Clean Restaurant:
Keep Your Customers Safe
The obvious reason to keep restaurants – from kitchens to dining tables - impeccably clean is to avoid cross-contamination and food-borne pathogens that can make your customers sick. Also, a buildup of grease that is not properly cleaned can cause a fire putting employees, customers, and your bottom line at risk.
Pass Restaurant Health Inspections
Health inspections are real and can occur at any time – typically one to four times a year. Having a process in place to keep your restaurant clean helps ensure that your restaurant passes health inspections and helps you avoid fines (or closure) if you don't pass inspection.
Two of the most common health code violations are poor kitchen sanitation and cross-contamination that can lead to food illness; therefore, maintaining a clean restaurant at all times should be your goal.
Maintain a Good Reputation
Having a clean restaurant – both front-of-house areas and behind the scenes - is imperative to your restaurant's reputation. People will not dine at a visibly dirty restaurant (at least not more than once), and having your restaurant shut down because of a health violation doesn't exactly instill confidence in your customers.
Keep Restaurant Costs Down
A clean restaurant can help minimize the cost of legal fees and medical costs; thereby, helping to lower your restaurant insurance costs. Plus, a sanitized and clean kitchen helps cut down on food waste.
How to Maintain a Clean Restaurant?
One of the biggest challenges when it comes to sanitation and food safety is the control of bacteria, parasites, viruses, toxins, chemicals, and pathogens like Norovirus and Listeria, which can result in food-borne illness.
On average, one in ten people will become ill, and 420,000 will die every year after eating contaminated food, according to the World Health Organization (WHO).
Food contamination can occur at any time during food production, distribution, and preparation. Any surface that touches food must be regularly cleaned and sanitized – including countertops, cutting boards, dishes, utensils, flatware, tables, microwaves, and even high chairs.
Having a cleaning and sanitizing process in writing, training all employees on that process, and enforcing that process are key to a clean restaurant. Here are some tips for developing that process in your restaurants.
Basic Steps to Clean All Surfaces:
Remove debris from the item by scraping or rinsing it.
Remove soil by washing the object in detergent.
Rinse with hot water.
Sanitize with a chemical sanitizer or hot water (180F) to reduce pathogens. Sanitization reduces 99.999% of pathogenic microorganisms.
Air dry. Do not rinse or use a towel to dry it after it has been sanitized.
What Should Be Cleaned and When?
While preparing food, cooks should practice basic food safety procedures, such as switching cutting boards and brushing grills between cooking fish, poultry, and red meat.
Tasks performed after each shift should include tasks such as cleaning cooking equipment; washing utensils, plates, and glassware; and sweeping and mopping the floors.
Daily tasks include cleaning out grease traps and running hood filters through the dishwasher.
Weekly tasks should include emptying, washing, and sanitizing reach-in coolers; cleaning coffee machines; and using drain cleaners on floor drains.
Monthly tasks should include things like cleaning freezers, emptying and sanitizing ice machines, washing walls and ceilings, and wiping down storage areas.
There are also annual tasks (that aren't exactly cleaning but are important), some of which may require a professional, such as checking the fire suppression system, fire extinguishers, the hoods, and pilot lights on gas equipment.
The Webstaurantstore offers a printable checklist that you can start with, but creating checklists specific to your restaurant ensures that everything is covered.
Want to Save Even More on Your Restaurant Insurance?
American Insuring Group specializes in restaurant insurance and offers an extensive blog that provides information about how you can save on restaurant insurance. Plus, as independent agents, we can compare costs with several companies to ensure that you get the best price. Give us a call at (800) 947-1270 or (610) 775-3848 or connect with us online.